Nikki Fried and Other Top Florida Democrats Arrested in Abortion Rights Protest
Florida is moving to ban abortion at just six weeks, before many people even realize they are pregnant.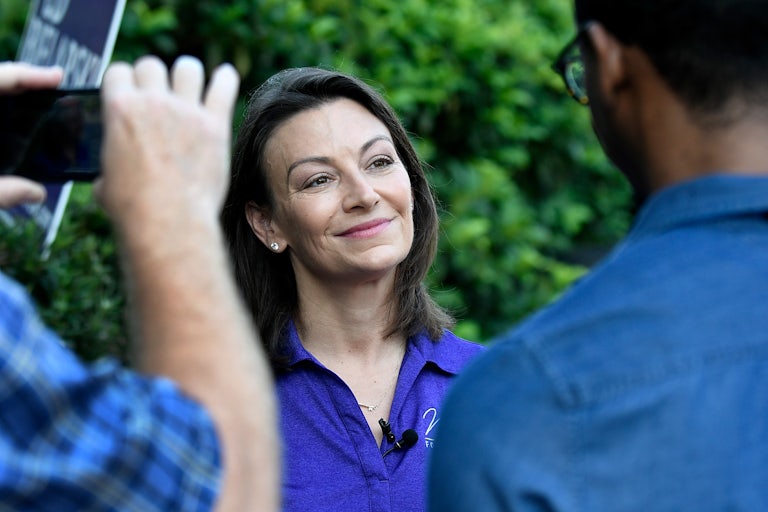 Gerardo Mora/Getty Images
Florida Democratic Party Chair Nikki Fried
Florida Democratic leaders were arrested during a protest for abortion rights, just hours after the state Senate passed a bill banning the procedure at six weeks.
Senate Bill 300 prohibits abortion after six weeks, down from 15 weeks and before many people even know they are pregnant. It also lowers the amount of money that the state Department of Health is required to spend on pregnancy and parental support, but dramatically increases the amount of state funds given to anti-abortion pregnancy centers.
People gathered Monday night in the park outside City Hall in Tallahassee to protest the bill. A group of about 12, including Florida Democratic Party Chair Nikki Fried and Senate Minority Leader Lauren Book, sat in a circle inside part of the park that was closed at sunset. They held hands and sang songs including "Lean On Me."
Police had warned the protesters they would be arrested if they did not vacate the barricaded area, and when they continued to demonstrate, law enforcement arrested the dozen who were seated.
Fried has already changed her Twitter profile picture to a photo of her arrest and urged Floridians to get out and vote.
At the start of the protest, Book reminded those gathered that "the battle is not over." She had given a powerful speech on the Senate floor earlier in the day before the bill was voted through.
"We must work to make things different, because abortion is health care," she said, "and because women deserve to be equal & free."
If it becomes law, as it is expected to, S.B. 300 will have a significant negative effect across the rest of the South. Florida currently allows abortion up to 15 weeks and has become an abortion haven in the region, as many neighboring states have imposed harsher restrictions on the procedure since Roe v. Wade was overturned.