People Close to Dianne Feinstein Are Joking That She'll Resign When She's Dead
Apparently, the California senator has been battling inflammation of the brain and facial paralysis too.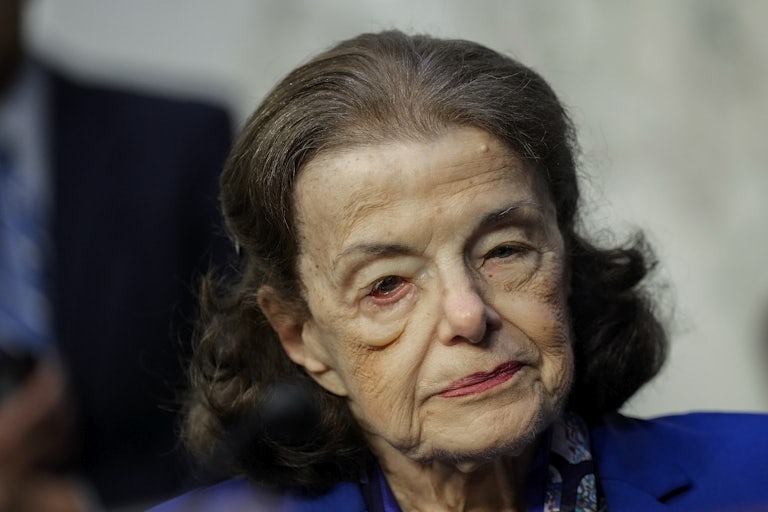 Drew Angerer/Getty Images
Apparently, Dianne Feinstein forgot she had encephalitis—inflammation of the brain. Either that, or the California senator (or her surrogates) have been lying about the degree of health issues she has been dealing with.
On Thursday, The New York Times reported that Feinstein has been dealing with more complications than shingles alone. The virus spread to her face and neck, causing vision and balance problems and facial paralysis, also known as Ramsay Hunt syndrome. The virus also brought on encephalitis. Both conditions were not publicly disclosed.

When asked about the nondisclosed conditions, Feinstein claimed she did not have encephalitis, that it "really has never been diagnosed," and that it "was really a bad flu."
The utter bleakness of it all cannot be overstated. "People close to her joke privately that perhaps when Ms. Feinstein is dead, she will start to consider resigning," the Times wrote.
Feinstein has already been feared to be fighting several cognitive and physical health issues; the new reports affirm the nature of those fears. Encephalitis can impact people's memory and language function and incur sleeping or mood disorders, spells of confusion, headaches, and difficulties walking.

Since the revelation, a Feinstein spokesperson has said the encephalitis "resolved itself shortly after she was released from the hospital in March" but that the senator "continues to have complications from Ramsay Hunt syndrome."
The Times reports follows a discouraging episode on Tuesday, in which the senator seemed to have forgotten she has not been in the Senate for over two months.

"No, I haven't been gone," Feinstein said. "You should follow the—I haven't been gone. I've been working," she continued.
A reporter followed up, asking if she meant she had been working from home.
"No, I've been here. I've been voting," she insisted. "Please. You either know or don't know."
Sincerely, this is heartbreaking to watch. Feinstein surely has her own agency, but it is abjectly cruel if anyone is forcing or encouraging her to stay in her role. If Feinstein indeed insists of her own accord on staying, may we pray she comes to her senses on how her absence has debilitated the machinations of government and how her insistence on working debilitates the rest of her own livelihood.