Montana Library Cancels Trans Speaker for Fear of Punishment Under Anti-Drag Law
The drag bans were never just about drag. This was the intended effect.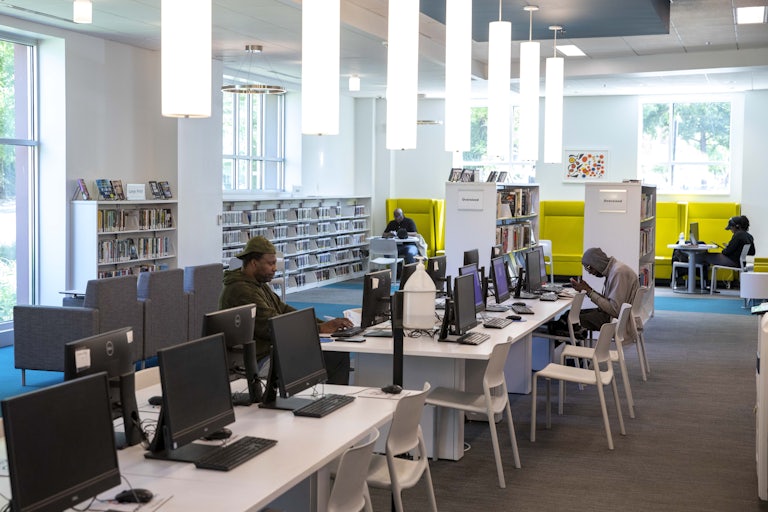 Amanda Andrade-Rhoades/For The Washington Post/Getty Images
A public library in Montana on Thursday canceled a talk that would feature a transgender speaker, due to the state's newly implemented drag ban.
The Butte-Silver Bow Public Library hosts a monthly series called First Fridays, which features a speaker or documentary on the first Friday of each month. The library was set to host trans Indigenous journalist Adria Jawort on June 2 to discuss the history of two-spirit (the Indigenous term for trans and nonbinary) people in Montana and the community's current experiences.
But on Thursday, the library announced they were canceling Jawort's appearance out of concern it would violate the law. "Our 'First Friday' speaker has been cancelled due to recent legislation (HB359) and at the recommendation of Butte-Silver Bow County legal council," the library wrote on its Facebook page.
"Our commitment to promoting inclusivity and intellectual exploration remains, but not in violation of law."
Jawort told The New Republic that she was "surprised" and "shocked" the library had canceled her lecture. There had already been complaints, to the point that the library was considering having a police presence during her speech, but she did not expect the event to be canceled altogether.
"The lecture was how LGBTQ2s, trans, two-spirit people have existed since time immemorial in the Americas," Jawort said. "That's always my greatest weapon in the fight against bigotry and ignorance, is knowledge. And that's why these lectures are important."
Jawort noted that her lecture was canceled just two months after the Montana state legislature censured Zooey Zephyr, the state's first and only trans lawmaker. "They'll [say,] 'Oh, it's because of this, because of that,' but then the bottom line is no, you're explicitly choosing to silence trans people," Jawort said.
Governor Greg Gianforte signed the extreme, vaguely worded drag ban just last week. The law bans drag performers, which are defined as "a male or female performer who adopts a flamboyant or parodic feminine persona with glamorous or exaggerated costumes and makeup," from performing where children are present. It is also the first measure to specifically ban drag story hours in public libraries, meaning it does not only restrict performances that might be more openly sexual.
Jawort is not a drag queen, and the lecture was intended for adults, although children could have attended if they wanted. The library's decision is a sign that the drag bans are having their intended effect: forcing LGBTQ people out of public view. The law is so confusing, and the punishments are so high, that many people and organizations are trying to avoid the risk.
Montana was the third state to ban drag performances, after Tennessee in March and Florida in May. The Tennessee law was blocked by a judge for violating free speech rights, but Pride groups in Florida are already canceling events in light of the new legislation. A similar bill has passed the Texas legislature, and Governor Greg Abbott is widely expected to sign the measure into law.
This post has been updated.