Montana Republicans Punish Transgender Lawmaker for Having the Nerve to Call Them Out
Zooey Zephyr has become a target after criticizing Republicans' anti-trans legislation.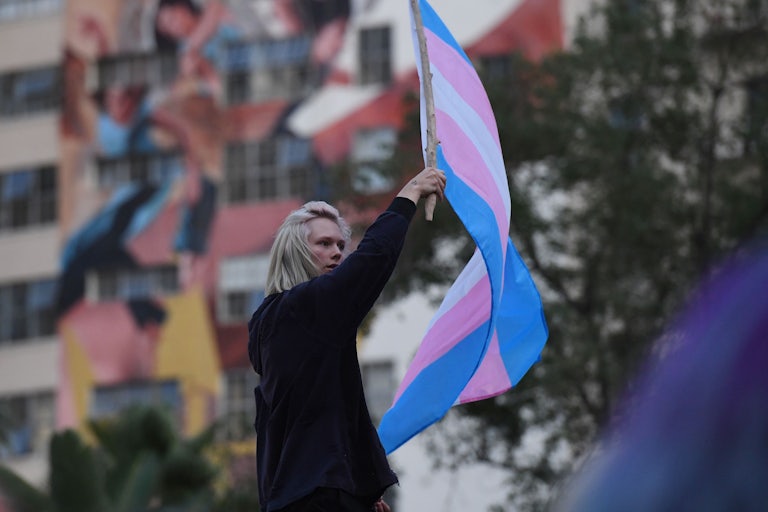 MARK RALSTON/AFP/Getty Images
In Montana, Republicans are continuing their vicious quest to silence anyone who disagrees with them.
On Wednesday, the Montana House voted 68–32, on a party-line vote, to censure Zooey Zephyr, the state's first and only transgender legislator.

For the rest of the 2023 session, Zephyr will be barred from entering the House floor or even gallery. She will instead be forced to participate remotely. She will be able to vote on bills but will not be able to speak about them.

This cannot be overemphasized: Zephyr is being removed for the simple act of advocating for her life, and for the lives of many other trans Montanans.

"If you use decorum to silence people who hold you accountable, then all you are doing is using decorum as a tool for oppression," Zephyr said on the floor of a House filled with members seeking to dehumanize her and so many others.
Indeed, the practice echoes what just happened in Tennessee, as Republicans expelled two Black Democratic members for breaching "decorum" after they stood in solidarity with thousands of parents, teachers, and students protesting gun violence in the wake of a school shooting that left three children and three adults dead.

Republicans have actively silenced Zephyr since last week, after she spoke out against a bill banning gender-affirming care for minors. Among her remarks was a warning that such a bill would increase the risk of suicide among trans and nonbinary kids.
"I hope the next time there's an invocation, when you bow your heads in prayer, you see the blood on your hands," she said.
Instead of even remotely heeding such a warning—about the risk of more kids dying—Republicans voted unanimously to silence the messenger. To repeat: Instead of even feigning concern about children taking their own lives, Republicans are silencing the person warning them about what will happen because of their actions.
While Republicans carry on their callous censorial campaign, Montana residents have come out in full force to support Zephyr, rallying behind her and demanding she be allowed to speak just as everyone else is.