The Biden Economy Keeps Growing—and the Experts Hate It
Another 339,000 jobs added in May. Doesn't Biden understand the economy is supposed to suck?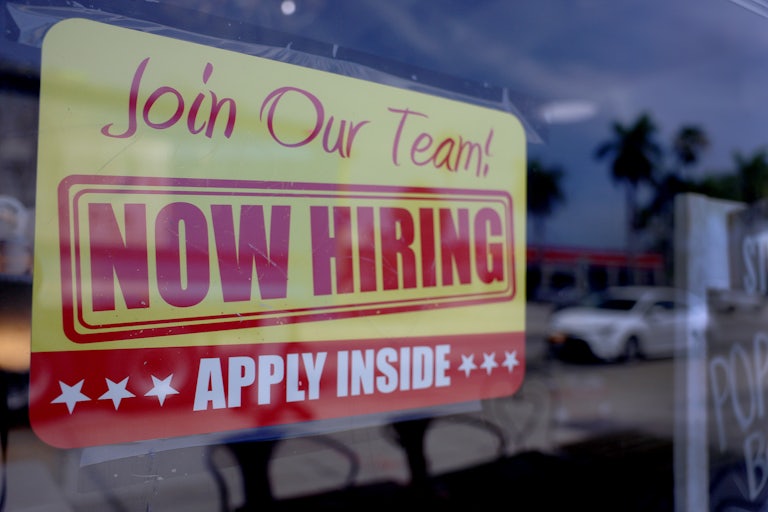 Joe Raedle/Getty Images
Like Rasputin, the Biden economy refuses to die even as the Federal Reserve, Congress, and the nation's bank executives try to club it to death. The Bureau of Labor Statistics, or BLS, reported Friday morning that 339,000 jobs were created in May. That's pretty much in line with the average over the previous 12 months (341,000).

The Fed won't be pleased. It has raised interest rates 10 times since March 22, with three quarter-point hikes this year, and Fed governor Philip Jefferson signaled in a speech this week that the Fed would not raise them again in June while it assessed the state of the economy. It may have to reconsider. Inflation has been drifting down for nearly a year, but Fed Chairman Jerome Powell believes it necessary to increase unemployment significantly to keep it down. The BLS report said unemployment ticked up slightly in May, to 3.7 percent, which is still extremely low. (How can job growth increase while unemployment rises, you may wonder? The numbers are taken from different surveys.)
The Republican-controlled House did its best to wreck the Biden economy with its threatened refusal to raise the debt limit. But that dream died when it reached agreement this week with Biden on a package projected to reduce spending by $1.5 trillion over the next decade. The debt ceiling bill cleared the House Wednesday and the Senate late Thursday, well in advance of the so-called "X date." We're still waiting to see what kind of revenge House Speaker Kevin McCarthy's hard-right flank will take.
Executives of three now-defunct midsize banks—Silicon Valley, Signature, and First Republic—threatened to bring on a recession through enthusiastic mismanagement enabled by deregulation. It's mostly on the banking sector's behalf that the Fed is contemplating a pause in interest rate hikes. But the Biden expansion continues, undaunted and undead.