GOP Tennessee Congressman Doubles Down, Says Praying Is the Only Way to Fix School Shootings
The "we're not gonna fix it" lawmaker isn't sure why people are so mad at him.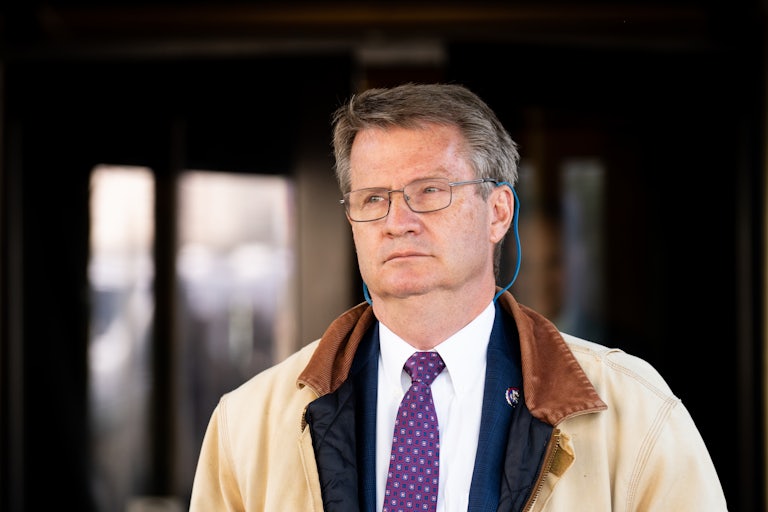 Kevin Dietsch/Getty Images
Tennessee Representative Tim Burchett
On Monday, Tennessee Republican Representative Tim Burchett said, "We're not gonna fix" school shootings, in the aftermath of three children and three adults being shot dead at a school in Nashville, Tennessee.
And appearing on Fox on Thursday, Burchett doubled down on his appalling disinterest in doing even the barest minimum of his job. When asked why his initial comments somehow made people mad, the representative was incredulous.
"They come back to me and say, 'Burchett, look what your prayers have done for us.' The people doing the praying aren't the ones doing the shooting, ma'am, and it's just a very unfortunate situation," Burchett said.
"And, and um, I don't—there's no easy answers," he continued, as if he was interested in any answer whatsoever. "Um, I don't know, I—I—, you know, repenting of your sins and um, and having some sort of um, reform in this country seems to me to be the way we're going to have to turn this thing around because we have some very sick, evil people doing some very vile things, and um, and revival seems to be the way to go for me.
"But I realize their hatred toward me and my beliefs, and that's—that's fine," Burchett finished.
What must be dispelled once and for all is the notion that there are "no easy answers." There is a whole catalog of policies the government could be pursuing to confront gun violence—policies that Republicans have not only fought tooth and nail to oppose but countered by making it even easier for people to get death machines. The astoundingly lazy assertion of "Bah, there's no easy fix" has enabled Republicans to instead do nothing to fix anything.

Republicans have long insisted that gun ownership is a "God-given right," while also insisting that the cause of gun violence is anything but guns. But if it takes hate to become a mass shooter, Republicans have been on the front lines of fomenting it. If it takes social alienation to become a mass shooter, Republicans have done everything in their power to erode public life and solidarity in favor of individualism. If it takes compounded mental distress to become a mass shooter, Republicans have time and again opposed strengthening mental health care in this country.
And if it takes easy access to guns to become a mass shooter, well, you already know where Republicans stand on that.