Elon Musk Personally Elevates Transphobic Video Originally Flagged as Hate Speech
"Every parent should watch this," said the man disowned by his trans daughter.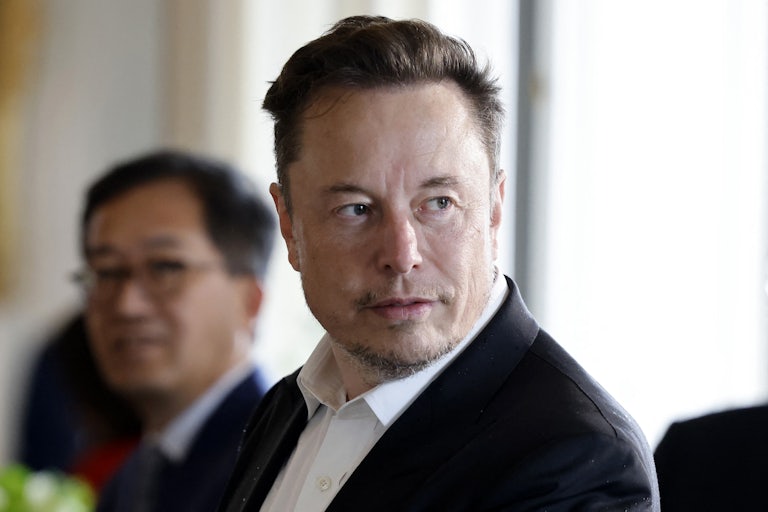 LUDOVIC MARIN/POOL/AFP/Getty Images
"Every parent should watch this." This is what Elon Musk—one of the world's most powerful elites—said about The Daily Wire's transphobic documentary What Is a Woman? hosted by the vicious and intellectually dull Matt Walsh.
Musk's personal promotion of the video follows his total capitulation to the far-right media company's personal complaints of being suppressed. On Thursday, Daily Wire co-founder and co-CEO Jeremy Boreing posted a Twitter thread explaining that Twitter reneged on a commitment to buy a package to host the showing of the entire 90-some-minute movie on a "dedicated event page and to promote the event to every Twitter user over the first 10 hours" (something that has never been done in such a way for any kind of content).
According to Boreing, after Twitter reviewed the film, they said they would not purchase the package and would limit the reach of the film, calling it "hateful conduct" due to misgendering. Twitter had removed "misgendering" from its safety policies, but the company told The Daily Wire they still consider it to be abuse and harassment.
After Boreing and company personally appealed to Musk, however, the tide turned.
"This was a mistake," Musk said on Twitter. "Whether or not you agree with using someone's preferred pronouns, not doing so is at most rude and certainly breaks no laws." Musk went on to say he personally uses someone's preferred pronouns, just as he would someone's preferred names, for the sake of "good manners."
"However," he continued, "for the same reason, I object to rude behavior, ostracism or threats of violence if the wrong pronoun or name is used."
Afterward, the prospects for What Is a Woman?'s exclusive treatment crystallized. "Commenting & deliberate sharing will be allowed. Sensitive content just won't be pushed to people unless they ask for it or a friend sends it to them," Musk said Thursday night, explaining that the post would not be recommended to people who don't follow The Daily Wire, nor would any advertising be associated with it.

Of course, this whole seemingly compromising, "measured" response blew up by Musk's own hand, when he told his 141.8 million followers that "every parent should watch" the documentary. Which is to say, the content would be pushed to anyone who follows Musk or even follows someone who follows him, even if they did not ask for it—explicitly contradicting Musk's own statement (setting aside the irony of Musk giving any parenting advice, given his own transgender daughter disowned him as a father after she turned 18).
What's more, though, is that the contradiction certainly did not seem accidental.
"The Streisand Effect on this will set an all-time record!" Musk tweeted in response to a user encouraging people to watch the movie.
"The controversy will drive viewership," Musk assured Boreing after The Daily Wire's head complained about the "terrible day."
Walsh, for his part, called the final outcome of "Elon Musk himself tweeting out the film and urging people to watch it" a "huge win."
Again, Musk's decision-making did not have all interests in mind. Also on Thursday, Musk tweeted that gender-affirming care "is a major problem" and that he will "be actively lobbying to criminalize" such care for people under the age of 18.
The episode comes after Musk has been quick to heed requests from Turkey and India to suppress free speech; the common denominator being a complete lack of principle or standards and a pathetic subservience to power interests on the far right. Musk, who often pretends to be a moderate, is neither, in his politics nor in his role as Twitter CEO.
Again, even if Musk was some universal free-speech maximalist, he wouldn't have to personally promote videos that only happen to punch down against transgender people. He could, for instance, be promoting content that confronts the corruption of fossil fuel or weapon companies, or Big Pharma, or Israel's treatment of Palestine. Instead, it just coincidentally happens that the "free speech" Musk advocates for is often language that attacks already marginalized people, and seldom challenges corporate interests that harm all of us.
Funny too Musk, again, one of the world's biggest elites, thinks he is speaking truth to power. Fellow delusionally self-proclaimed moderate Tim Pool proclaimed Friday that "Elon is facing the reality of going up against the world's political powers."
"I am on team humanity," Musk responded simply.