Lindsey Graham Bends Over Backward Trying to Defend Donald Trump
The South Carolina senator engaged in some impressive mental gymnastics to justify Trump's hoarding of classified documents.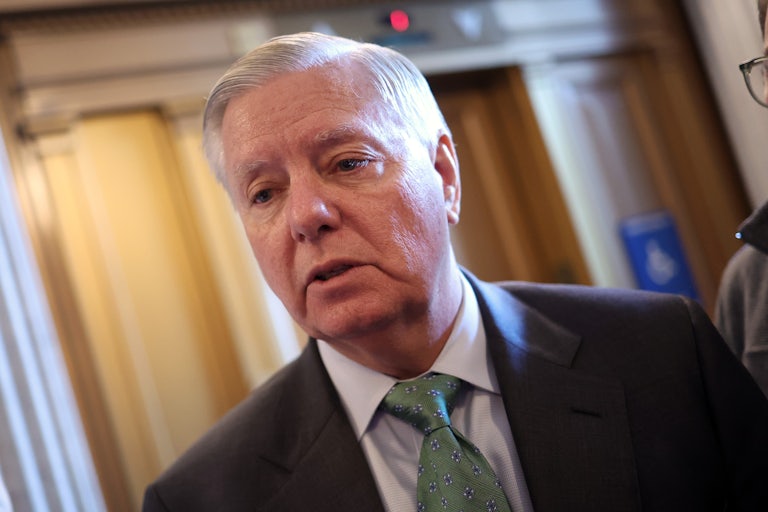 Kevin Dietsch/Getty Images
"If we nominate Trump, we will get destroyed … and we will deserve it."
Lindsey Graham's famous words seven years ago are a stark reminder of how the South Carolina senator has since showcased the remarkable flexibility wielded by one whose spine is as invented as one's convictions.

On Sunday, Graham appeared on George Stephanopoulous's program to defend the now twice criminally indicted Donald Trump.

The former president was indicted last week for taking and mishandling classified documents after leaving the White House. He went as far as hiding the documents in a Mar-a-Lago ballroom and bathroom, and showing off the documents (from agencies like the CIA, Defense Department, and NSA) to a representative of his PAC and staff members.
Graham was asked whether he believes that Trump did nothing wrong. Instead of answering, Graham went straight to whataboutism about Hillary Clinton (reminder, the year is 2023). Stephanopoulos tried to interject—perhaps to ask for a simple answer to the question—and Graham snapped, at hair-trigger speed.
"No, let me finish!" he snarled, as the host tried to ask for a direct answer. "I'm trying to answer the question from a Republican point of view—that may not be acceptable on this show."
Stephanopoulous did not let up, however, insisting that Graham used the show to attack President Biden and Clinton; he had little to say in actually defending Trump.
"I-I'm, I'm, I'm not justifying [Trump's] behavior," Graham said.
"But you're endorsing him for president of the United States," Stephanoupoulos pointed out.
"Yeah, yeah, I-I think wh-what's happening here is trying to, delegitimize him," Graham responded, verbally slipping on a banana peel.
Graham simply couldn't find the basic gumption to say Trump was wrong, but rather, "None of this is OK," in reference to anyone who has ever been in possession of secret documents.

Graham prides himself on being a statesman, often being the co-sponsor of high-potential and very palatable bipartisan bills that, perhaps by design, tend to go nowhere (the Afghan Adjustment Act, the Recovering America's Wildlife Act, to name just a few). With a record of putting his name on such bills but clearly not using the clout of a 20-year senatorial career to actually get them passed, his most obvious traits are what he displays in public. And over the past seven years, Graham has shown himself to be what he has been all along: a pathetic, meek inhabitant of the D.C. swamp with no broader ambition other than to stay there.