The Teamsters' Strike Has Already Claimed a Climate Win
Delivery drivers, who have reported temperatures upward of 140 degrees in their trucks, won a suite of protections ahead of strike vote.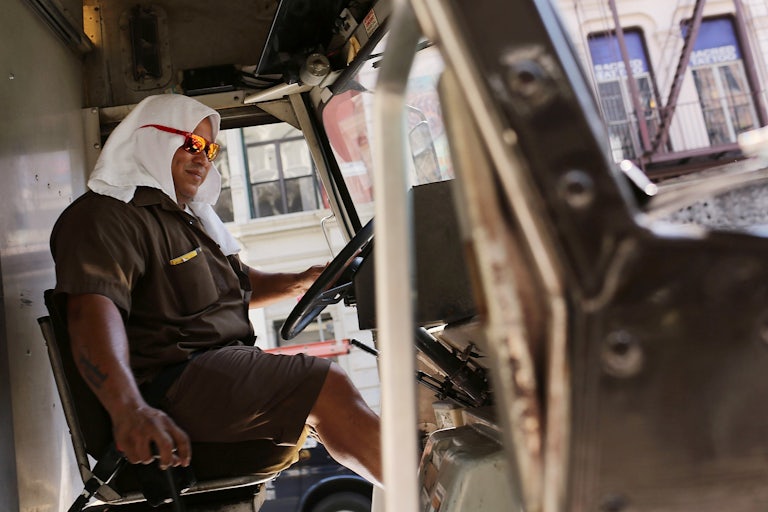 Spencer Platt/Getty Images
A UPS driver keeps a towel on his head while driving in New York City during warm weather.
On Friday, 97 percent of UPS employees represented by the Teamsters voted for a strike as they negotiate a new contract with the logistics company; the current contract is set to expire on July 31. The threat of that strike, though, may well have already claimed a win that could protect delivery drivers from the kinds of extreme heat due to sweep the South this weekend and become ever more common thanks to climate change.

According to a tentative agreement reached with UPS as part of contract negotiations on Wednesday, the company will be mandated to equip all of the recognizable brown "package cars" it purchases after January 1, 2024, with in-cab air conditioning. The existing fleet of package cars and vans will be outfitted with two fans after a new contract is ratified, with additional upgrades to include exhaust heat shields and air induction vents. As of now, most trucks and many loading facilities are not air conditioned. New cars will be dispatched to the hottest parts of the country first, the company stated.
Workers I spoke with credited the pre-vote win to their ongoing contract campaign and the credible threat of a strike.
The protections follow persistent complaints from workers that temperatures in their trucks have reached upward of 140 degrees, conditions made especially dangerous considering the intense physical demands of delivery work. A 2019 investigation by NBC News found that at least 107 UPS workers in 23 states had been hospitalized for heat-related illnesses since 2015.
Last year, 24-year-old driver Esteban Chavez Jr. died after finishing his last delivery in Pasadena, California, having passed out in his truck as temperatures outside reached into the upper 90s. Workers facing similar conditions have reported being reluctant to call 911 for medical assistance when experiencing symptoms of heat stroke or dehydration, fearing retaliation from the company.