No Labels Could Hand the 2024 Election to Donald Trump
The self-described "nonpartisan" and "centrist" group is doing Donald Trump and the GOP a huge favor.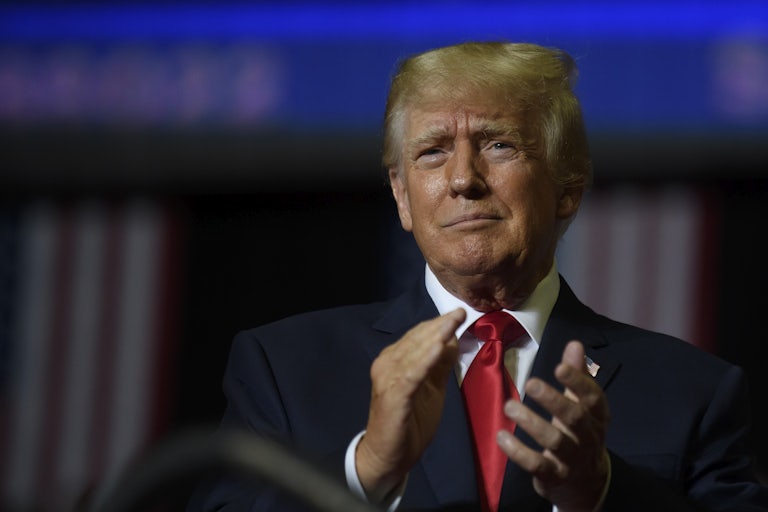 Photo by Jeff Swensen/Getty Images
The self-described "nonpartisan" group No Labels is hell-bent on running a third presidential candidate for 2024—and in doing so could hand the election to Donald Trump.
No Labels claims its goal is to create a space for centrists who are fed up with partisan politics and want solutions that appeal to both the right and the left. In reality, it has taken money from Republican billionaire megadonor Harlan Crow—best known for the lavish gifts and vacations he has given to Clarence Thomas—and backed the immensely unpopular former North Carolina Governor Pat McCrory. Even the group's former allies say No Labels is "dangerous."
The group insists that voters want someone other than Trump or Joe Biden, so it's preparing for a third-party campaign—despite enormous pushback from political strategists.
"It is a spectacular combination of hubris and irresponsibility at a level that I have trouble even believing," Rick Wilson, co-founder of the anti-Trump group the Lincoln Project, told The Wall Street Journal. "They've made a financial and personal decision to destroy Joe Biden." (Wilson should be pretty familiar with this: The Lincoln Project is another group with lofty goals but questionable follow-through.)
If No Labels persists, it could end up giving Trump an easy win. Historically, third-party candidates have performed poorly in presidential elections, typically receiving (at best) a sliver of the electorate. The exceptions (Theodore Roosevelt in 1912; Ross Perot in 1992) prove the rule. But a third-party candidate could peel critical votes away from Biden while Trump cruises to victory on the support of his energized fans.
Another outcome could be that a third candidate prevents anyone from getting 270 electoral votes, meaning that state delegations in the House of Representatives pick the winner. Since the House is currently in Republican hands, it would almost certainly swing for Trump.
No Labels has pledged to back out if Trump does not get the GOP nomination. The current runner-up is Florida Governor Ron DeSantis, who has signed some of the most extreme laws in the country, targeting women, people of color, and LGBTQ people. DeSantis also criticized the debt ceiling deal, which No Labels praised.