Mask Off: DeSantis Staffer Reportedly Shares Video of DeSantis and Giant Nazi Symbol
"Calling DeSantis a fascist isn't hyperbole, it's defining what he is."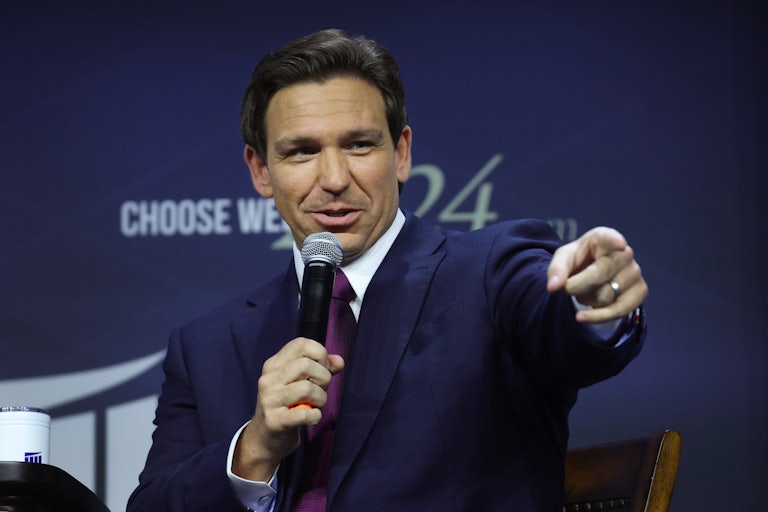 Scott Olson/Getty Images
Ron DeSantis
The DeSantis team is facing blowback after reports that a campaign staffer over the weekend shared a video of the presidential candidate with a Nazi symbol.
The short clip, reportedly first posted by the Ron DeSantis Fancams Twitter account, shows a "doomer" looking unhappy as he reads news stories on things like Donald Trump's inaction on immigration, his promotion of Covid-19 vaccines, and his support for the LGBTQ community.
Then DeSantis enters (through an eerily small doorway), and the doomer is happy.
Images of the Florida governor are spliced together with alligators, rockets, and women in bathing suits, in a bizarre compilation reminiscent of another very bad DeSantis campaign ad released earlier this month.
But one scene caught a lot of people's attention: an image of DeSantis, a Nazi symbol interposed over the Florida flag, and soldiers marching toward it.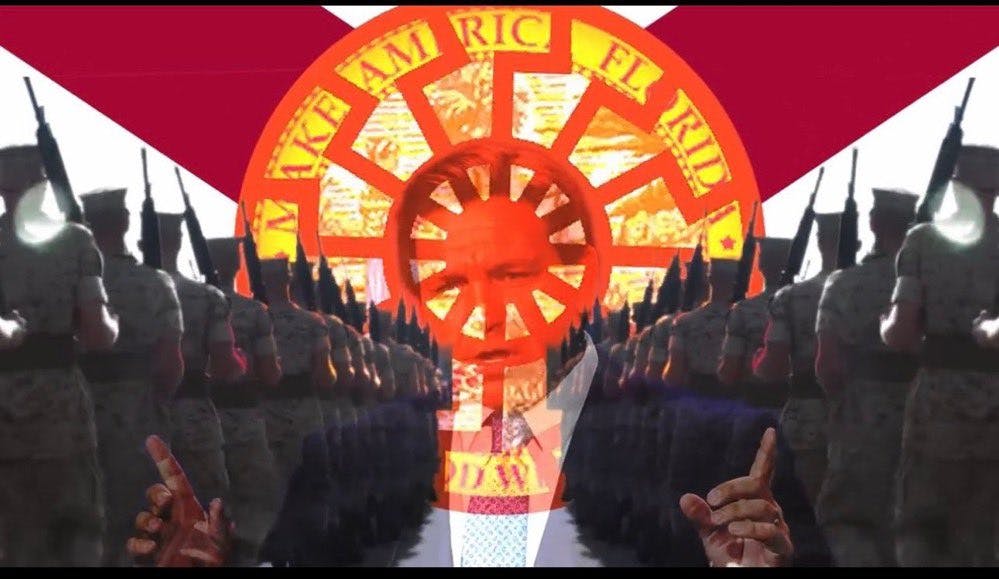 The far-right circular symbol is known as a "sonnenrad," a symbol co-opted by Nazis in their attempt to claim an "Aryan heritage." Today, it's often found in white supremacist literature and the manifestos of far-right mass shooters.
And apparently, it's also found in the 2024 presidential campaign.
Ron DeSantis Fancams Twitter deleted the video shortly after reports that a campaign staffer who regularly engages with the account reshared the video.
Florida Democrats pounced on the news, noting that DeSantis "has been given every chance to denounce neo-Nazis and what they stand for, and he refuses to do it. His administration has already attempted to rewrite the history books on slavery—is the Holocaust next?"
Florida Representative Maxwell Frost also attacked DeSantis. "When I first started calling [Ron DeSantis] a fascist, I got blowback from folks in both parties," Frost tweeted. "Now, he's being so overt about it that people are coming around.

"Calling DeSantis a fascist isn't hyperbole, it's defining what he is."
Last week, Florida's Board of Education approved new academic standards for African American history in public schools, requiring middle schools to teach students how enslaved people "developed skills which, in some instances, could be applied for their personal benefit." DeSantis has defended the move.
Also on Sunday, The New York Times reported that the DeSantis campaign had created that bizarre, homophobic video from earlier this month—but planted it in a fan account so it wouldn't seem like the campaign was actually behind it. That report led people to wonder if the campaign did the same thing again, but this time with a video including a very large Nazi symbol.