House Passes Israel Is Not Racist Measure, Hitting Back at Progressives
Congress can't handle even a bit of criticism of Israel, which continues to break international law.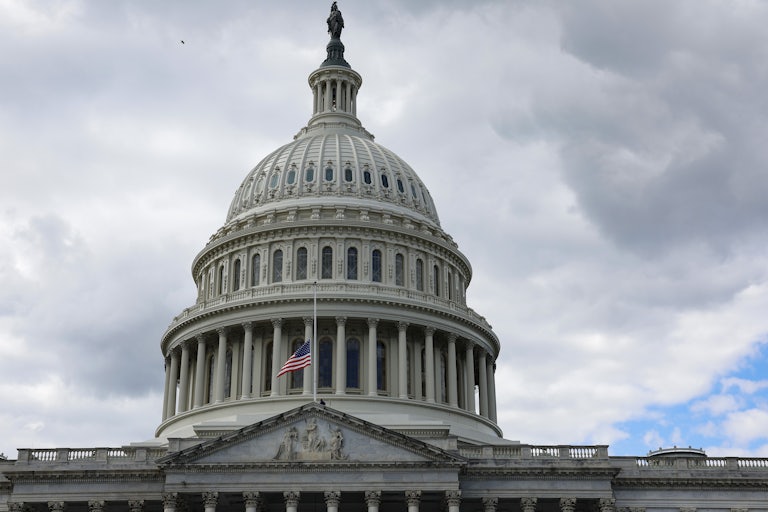 Anna Moneymaker/Getty Images
Israel has committed decades of human rights abuses, engaged in land dispossession and home demolition, upheld separate systems of law, and maintained a militarized police state against Palestinians. America contributes nearly $4 billion to this every year.
And apparently that's not enough.
On Tuesday, the House voted overwhelmingly in support of a resolution that declared "the State of Israel is not a racist or apartheid state," and assured "the United States will always be a staunch partner and supporter of Israel."

The resolution also had one other line, holding that "Congress rejects all forms of antisemitism and xenophobia," essentially daring anyone opposed to Israel's human rights violations to vote against stopping bigotry. And it worked: 412 members voted "yes" for the resolution.

Only nine representatives voted against: Representatives Alexandria Ocasio-Cortez, Jamaal Bowman, Cori Bush, Summer Lee, Andre Carson, Ilhan Omar, Rashida Tlaib, Delia Ramirez, and Ayanna Pressley. Representative Betty McCollum voted "present." All dissenting votes are Democrats.

Tuesday's vote follows an all too familiar drama in Washington, when a member of Congress dares to speak out on Israel's blatant mistreatment of Palestinians and violations of international law.
Over the weekend, Representative Pramila Jayapal called Israel a "racist state." She had made the remark at the progressive Netroots Nation conference in Chicago, ahead of Israeli President Isaac Herzog's expected address to Congress on Wednesday. The address is one that Ocasio-Cortez, Omar, Bush, Tlaib, and Bowman have all said they will not attend—in similar fashion to members boycotting Indian Prime Minister Narendra Modi's visit to the United States for his record on minority rights.
"The Palestinian people deserve self-determination and autonomy," Jayapal said to a group of activists at the conference. While Jayapal later walked back her comments, she still maintained her position that Israel has an "extreme right-wing government" that "has engaged in discriminatory and outright racist policies"—the same conclusion that organizations from Human Rights Watch to Amnesty International have also come to, describing Israel's actions as racist, abusive, and part of an apartheid system.
Nevertheless, establishment politicians from both parties seized the moment to assail Jayapal and anyone else criticizing Israel, leading to Tuesday's vote on the measure, introduced by Representative August Pfluger.
Apparently the Texas Republican has nothing better to do while his own district has been boiling in record-breaking triple-digit heat that has left scores of people sick, collapsing, and even dying. Pfluger has received over $1.1 million from the fossil fuel industry and another $28,050 from pro-Israel, election-denialist-supporting AIPAC. He has collected all that and more while only taking office three years ago.
Meanwhile, Pfluger, like most of those who supported this resolution, has little regard for the actual human rights abuses inflicted upon Palestinians, let alone for the day-to-day struggles people in America are facing. Instead, our taxpayer money is going toward our representatives pledging fealty, and billions of dollars, to a country committing international human rights violations.