"Embarrassing Spectacle": Progressive Dems Boycott Modi's Congress Speech
"When it comes to standing up for human rights, actions speak louder than words," the representatives said.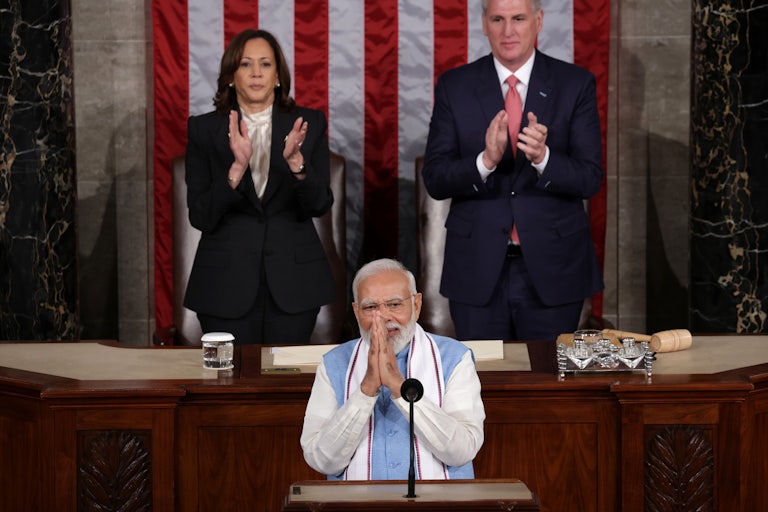 Alex Wong/Getty Images
Progressive Democrats boycotted Narendra Modi's speech to Congress Thursday, citing the Indian prime minister's terrible human rights record.
Modi met with President Joe Biden earlier in the day to discuss strengthening the relationship between their two countries. Democrats in both the House and Senate had urged Biden to press Modi on human rights issues. In a letter to the president on Tuesday, 75 lawmakers cited "the shrinking of political space, the rise of religious intolerance, the targeting of civil society organizations and journalists, and growing restrictions on press freedoms and internet access."
Modi's speech to Congress, though, was widely attended—minus several prominent progressive Democrats. Representatives Rashida Tlaib and Ilhan Omar had said Wednesday that they would boycott the address. They were joined a few hours later by Representative Alexandria Ocasio Cortez.
Tlaib, Omar, Cori Bush, and Jamaal Bowman released a joint statement ahead of the speech Thursday explaining their intention to boycott the address, which they called an "embarrassing spectacle."
"When it comes to standing up for human rights, actions speak louder than words," the statement said. "By bestowing Prime Minister Modi with the rare honor of a joint address, Congress undermines its ability to be a credible advocate for the rights of religious minorities and journalists around the world."
The group called Modi "complicit" in the 2002 Gujarat riots that killed more than 1,000 people. They noted that his government has targeted Muslims and other religious minorities, journalists, and dissidents; suppressed criticism through internet shutdowns and censorship; and enabled Hindu nationalist violence.
"It is shameful to honor these abuses by allowing Modi to address a joint session of Congress," the statement said. "We must never sacrifice human rights at the altar of political expediency and we urge all Members of Congress who profess to stand for freedom and democracy to join us in boycotting this embarrassing spectacle."
The authoritarian tendencies that progressive Democrats spoke out against are coming to bear against Indian Americans. U.S.-based Modi critics told HuffPost that they are experiencing government intimidation, online trolling, and legal harassment, as well as essentially being banned from traveling to India.
The activists said it might be tricky for Indian American lawmakers to speak out against Modi's visit, lest they face the same kind of pushback.