College Republicans Convention to Host White Nationalist Nick Fuentes
The national convention is laying out the red carpet for a whole host of far-right speakers, with Nick Fuentes at the very top.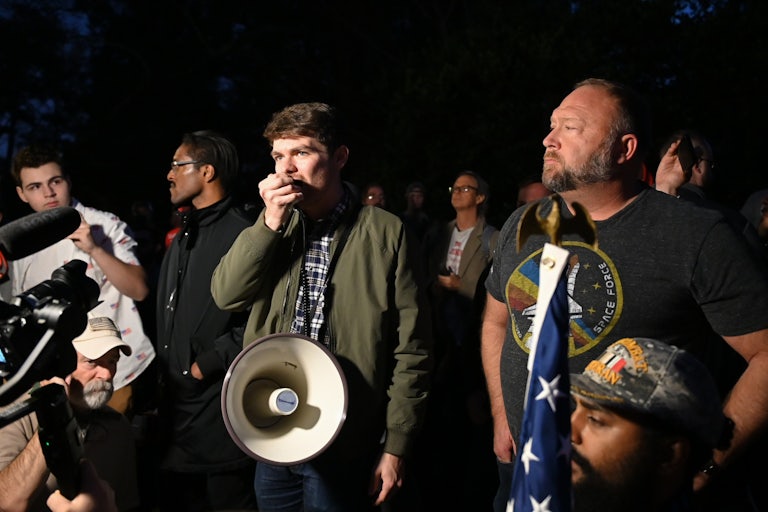 Zach Roberts/NurPhoto/Getty Images
Nick Fuentes, Alex Jones, and Ali Alexander during a "Stop the Steal" rally in Georgia on November 19, 2020
A national convention of college Republicans is excitedly welcoming vicious antisemite and racist Nick Fuentes as a headliner.
The event is being hosted later this month by College Republicans United, a group that, according to its website, has been committed to "spreading America First across college campuses since January 2018." Among its "values" are planks like "opposition to immigration and multiculturalism."

"Republicans United's sole focus is to support America First Policies and Christian Nationalism across the country," an organization flier reads.
After this article was published, the original venue for the conference, the Hassayampa Inn, announced that the "event will no longer be held" there anymore. Now, the College Republicans United website ambiguously says the conference will be held in downtown Prescott, Arizona. "This year's convention promises to be bigger, better, and more impactful than ever before," the organization assures, noting that the actual location will be "made public July 28th.
Fuentes was previously banned from social media outlets for violent rhetoric about people of color, women, Jewish people, immigrants, LGBTQ people, Covid-19, and much more. He has also proudly said he's "just like Hitler" (whom he has also called "a pedophile … also really fucking cool"), and that "Catholic monarchy, and just war, and crusades, and inquisitions" are much better than democracy.
Not to be outdone, also speaking at the event is January 6 rioter Jake Chansley. Known as the QAnon Shaman, Chansley has long been active in trying to spread the QAnon conspiracy theory, even attending a Black Lives Matter protest to try his luck. After the 2020 election, he focused his efforts on challenging the election results, specifically in Arizona, culminating in his participation in the January 6 attack on the Capitol (and in a photo of him with his fist raised as he stood on the dais on the Senate floor).
Recently expelled Arizona state Representative Liz Harris will also appear alongside former state Representative John Fillmore, who is now the leader of the far-right Patriot Party of Arizona. Harris was expelled from the state House for encouraging conspiracy theories and defamation on the House floor.
These are the people College Republicans United has laid out the red carpet for. Meanwhile, the official Republican Party in three Arizona counties (Pima, Maricopa, and Yavapai) are all backing the event.
Notably, the event has gone through several iterations of speakers and sponsors, as more and more people have come to learn of it. Originally, State Senator Justine Wadsack, neo-Nazi streamer and January 6 rioter "Baked Alaska," and Congressman Eli Crane were all set to appear at the event.
Meanwhile, former Arizona Representative David Stringer was listed as both a speaker and sponsor. Stringer resigned after refusing to cooperate with an ethics investigation into previous charges against him for sexually molesting two boys. Specifically, Stringer allegedly paid two boys under the age of 15—one who was developmentally disabled—$10 each to have sex with him. One of the boys told police Stringer had requested to have sex with him at least 10 additional times afterward.
Stringer also once complained at a campaign event that "there aren't enough white kids to go around," as he discussed integration in schools and was recorded saying he doesn't "like to demonize" sex trafficking. He said he doesn't think there is much child sex trafficking but there are "a lot of 15-year-old prostitutes." He laughed after saying that.
State Senator Wadsack has been removed from the event and is now pretending to play ignorant about the whole thing.

National Republicans were punished in 2018, lost in 2020, fizzled in 2022, and have lost swaths of referendums and special elections throughout that time period. Now, into 2024, their college counterparts seem to be leaning even further into the kind of politics that is both incredibly dangerous for the nation and phenomenally damaging electorally. If the future of your party is in the hands of students who are somehow so alienated that they think this kind of event is good … good luck, Republicans.
This article has been updated.