Vivek Ramaswamy Has an Idiotic New Plan To Let China Invade Taiwan
How is this a serious policy proposal from a 2024 candidate?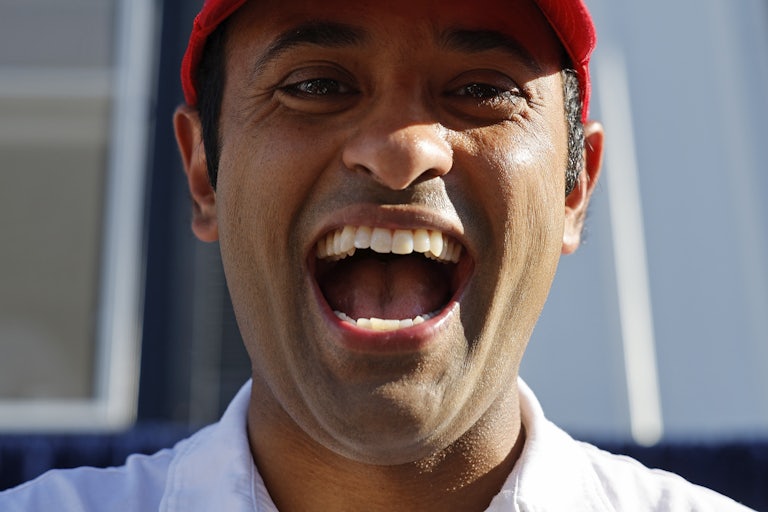 Chip Somodevilla/Getty Images
Republican presidential candidate Vivek Ramaswamy says he will let China invade Taiwan after the United States has its own supply of semiconductors, because defending the island is not in American "self-interest."
Taiwan produces about 60 percent of the global supply of semiconductors, which are microchips crucial to making all electronic devices. China has claimed sovereignty over the island since 1949, after the nationalist party in the Chinese civil war fled there and declared independence from the mainland. Chinese President Xi Jinping has increasingly insisted on "reunification" with Taiwan, even suggesting through the use of force.

The U.S. maintains "strategic ambiguity" regarding Taiwan, refusing to specify whether it would militarily defend the island if China attacks. President Joe Biden said last year that the U.S. would commit military force to Taiwan's defense, but the State Department tried to walk back his comments.
Ramaswamy told conservative radio host Hugh Hewitt on Monday that he wanted to move to "strategic clarity" on Taiwan. He argued that China only wants to invade Taiwan for two reasons: to control the semiconductor industry and to resolve the Chinese civil war.
Ramaswamy said, "Do not mess with Taiwan before 2028, before the end of my first term," when he believes he can achieve semiconductor independence in the U.S.
But "that commitment is only as far as 2028 … and we will not take the risk of war that risks Americans lives after that for some nationalistic dispute between China and Taiwan."
Ramaswamy said he intends to make his stance clear by dramatically upping the firepower around Taiwan during his first term. This includes moving destroyers and guided missile submarines to the Taiwan Strait, attempting to form a military alliance with India, and even "putting a gun in every Taiwanese household."
It did not seem to occur to him that China would likely interpret these moves as acts of aggression and respond in kind. Nor does he seem to realize that it's highly unlikely China would listen to his proposed arrangement. Hewitt pressed Ramaswamy multiple times on his apparent willingness to go to war with China (but just during his first term).
Ramaswamy responded by simply repeating that Xi "should not mess" with Taiwan until the U.S. has achieved semiconductor independence. He then admitted that if India does not agree to a military alliance, the U.S. would badly lose a conflict with China.

But rather than realizing that this is a terrible plan, Ramaswamy doubled down during a town hall with NewsNation on Tuesday.
Ramaswamy has been steadily rising in the polls, despite his only real campaign talking points being battling "wokeness," taking away rights, and, apparently, going to war with China.