Georgia Indictment: Trump Was Prepping Voter Fraud Claims Long Before Election
Trump knew what he was doing all along.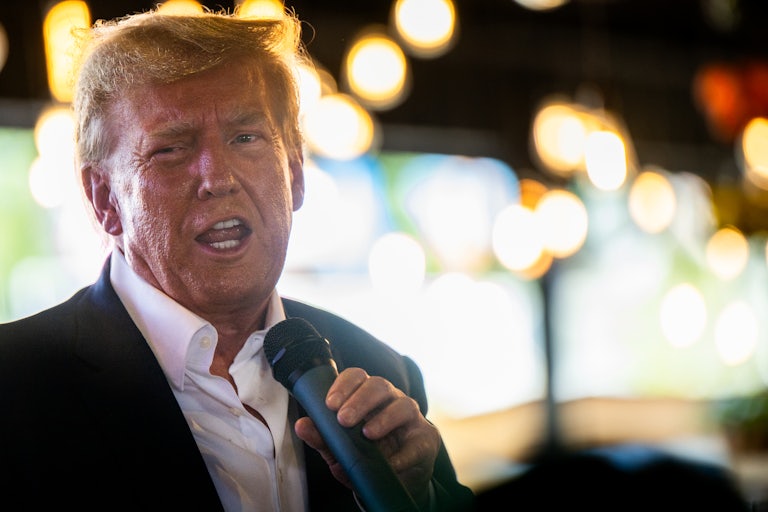 Brandon Bell/Getty Images
Donald Trump was indicted on Monday for a fourth time, and the second time for his efforts to overturn the 2020 presidential election. But the newest indictment out of Georgia sheds light on how Trump was planning to push claims of voter fraud even before Election Day.
On November 4, 2020, Trump made a nationally televised speech in which he falsely declared victory in the 2020 presidential election. (The results of the election and Biden's victory were not official until November 7.)
And according to the new indictment from Fulton County District Attorney Fani Willis, Trump had drafted talking points about voter fraud long before Election Day.

On October 31, four days before Trump gave that speech, he apparently discussed a draft speech he planned to give, in which he would falsely declare victory and make false claims of voter fraud. The indictment says that he discussed this speech with an "unindicted co-conspirator."

In other words, Trump was so determined to hold onto power that he made plans to claim voter fraud before votes were even counted—a conspiracy, if you will. This speech is a damning piece of evidence against Trump, and the indictment calls it "an overt act in the furtherance of conspiracy."
Much of Trump's legal defense until now has rested on the argument that the former president did not know he actually lost the election. The indictment out of Fulton County certainly makes it harder to push that line of defense.
The former president and 18 of his top allies have been charged with engaging "in a criminal racketeering enterprise to overturn Georgia's presidential election result." And if convicted, he won't be able to pardon himself out of it.