Did Trump Just Incriminate Himself Again in 2020 Election Trial?
In a new interview, Donald Trump declared his real role in the attempts to overturn the 2020 election.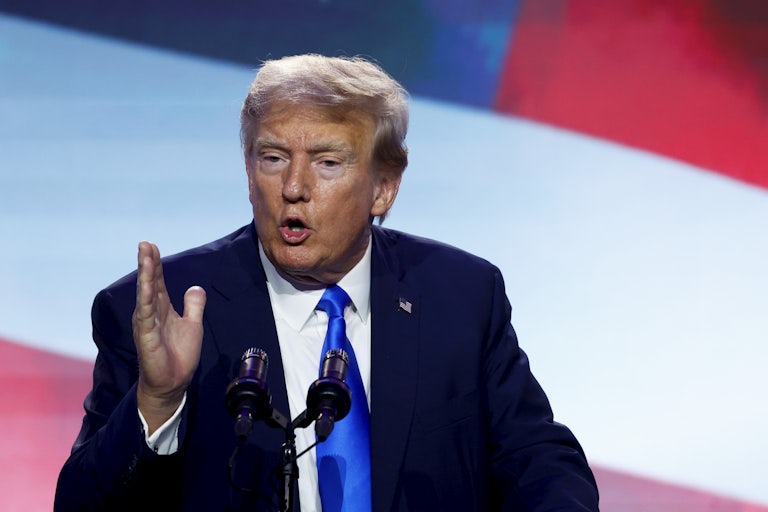 Anna Moneymaker/Getty Images
Donald Trump has once again doomed his legal defense, this time by placing himself at the center of the plot to overturn the 2020 election and saying in a new interview that it was entirely his decision.
Trump was indicted in Washington for trying to overthrow the presidential election. He faces charges for conspiracy to defraud the United States, conspiracy to corruptly obstruct an official proceeding, obstruction of and attempt to obstruct an official proceeding, and conspiracy against the right to vote. The indictment, one of four, hinges in part on the argument that Trump knew he had lost the election but still actively worked to overturn the results.
In a Sunday interview with NBC, Trump revealed that multiple legal advisers had told him the election was legitimate. When anchor Kristen Welker asked why he chose not to listen to them, Trump replied, "Because I didn't respect them."
"I respected many others that said the election was rigged," he continued. "You know who I listen to? Myself. I saw what happened."
Welker then asked if Trump was ultimately "calling the shots."

"As to whether or not I believed it was rigged? Oh, sure," Trump replied. "It was my decision."
Trump's biggest defense so far has been that he genuinely believed he had won the election and was following his lawyers' advice. Yet he and his legal team continue to undermine his own defense strategy. When he was arraigned for the January 6 indictment in August, Trump's lawyer Alina Habba also undercut their main argument.
"I think that everybody was made aware that he lost the election, but that doesn't mean that that was the only advice he was given," Habba told reporters outside the courthouse. "There are a numerous amount of advisers and politicians and lawyers, not just one or two, that are giving you advice and telling you what they believe is true."
"The president has the right, as every one of us do, to listen to several opinions and make their decision."
The thing is, Trump is legally allowed to say the election was rigged as much as he wants. But he is not allowed to act on that belief, as he now admits to doing. As The New Republic's Matt Ford pointed out, there is no constitutional right to organize a coup.