Kevin McCarthy Lies And Says Trump Condemned Fuentes (He Never Did)
The potential House speaker said Donald Trump condemned white supremacist Nick Fuentes four times. In reality, he hasn't condemned Fuentes even once.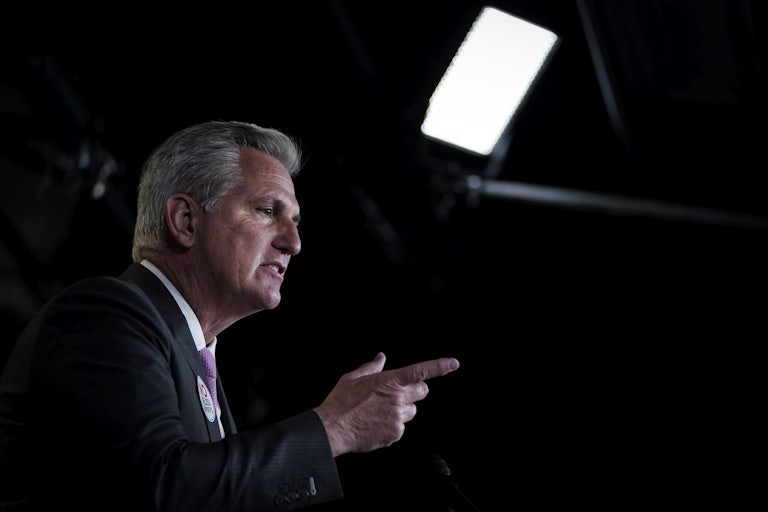 Drew Angerer/Getty Images
House Republican leader Kevin McCarthy finally spoke out Tuesday on Donald Trump meeting with a white supremacist…sort of.
It has been one week since Trump met with Nick Fuentes, a Holocaust denier and white supremacist, and rapper Kanye West, another outspoken antisemite. Republicans have been largely silent on the matter, or they have avoided explicitly criticizing Trump. The few exceptions, such as Liz Cheney, Adam Kinzinger, and Mitt Romney, were already vocal Trump critics and are not in party leadership positions.
McCarthy, the GOP nominee to be the new speaker of the House, condemned Fuentes Tuesday, telling reporters: "I don't think anybody should be spending any time with Nick Fuentes. He has no place in this Republican Party."
But he then repeatedly insisted that Trump "came out four times" against Fuentes and didn't know who he was to begin with. Both statements are straight-up lies.
Trump has not condemned Fuentes, and although he claimed not to know who Fuentes is, the former president has previously retweeted a clip from his internet show.

McCarthy is likely refraining from calling Trump out because condemning him risks alienating the former leader's supporters still in Congress. McCarthy will need every vote he can get if he is to become speaker, a goal he has not been shy about publicizing.
Earlier Tuesday, MSNBC host Joe Scarborough slammed McCarthy's (lack of) actions as "sad and pathetic."
McCarthy "thinks his support depends on having white nationalists and supporters of neo-Nazis voting for him for speaker of the House," Scarborough said."