McCarthy Allies Are Taking Revenge on Democrats, in Pettiest Way Possible
Kevin McCarthy and his friends are mad that Democrats didn't help him keep the House speaker's gavel.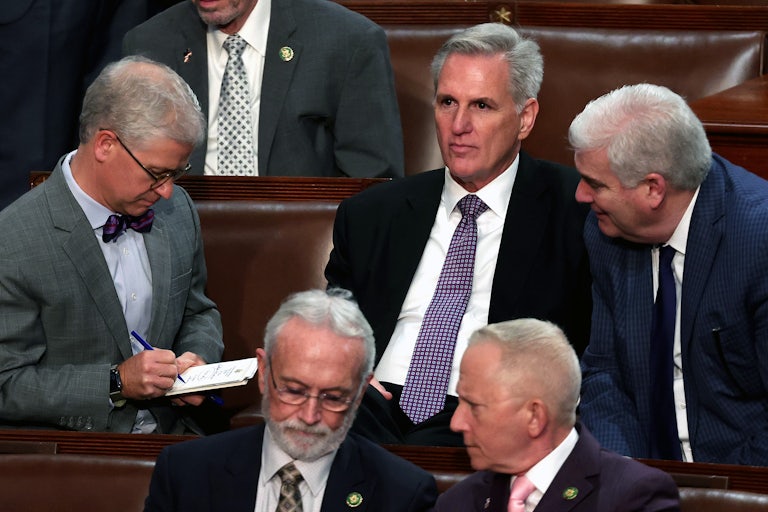 Win McNamee/Getty Images
Acting House Speaker Patrick McHenry (left) and Kevin McCarthy
Allies of ousted House Speaker Kevin McCarthy have begun to exact a very strange revenge against Democrats who voted to kick him from power.
The House voted 216–210 Tuesday to strip McCarthy of the gavel. Eight Republicans broke ranks to vote against him, but all Democrats united to oppose McCarthy. McCarthy appointed his ally Patrick McHenry to serve as speaker pro tempore until the chamber can vote on an official replacement,
McHenry immediately ordered former House Speaker Nancy Pelosi to move out of her Capitol office. Ironically, Pelosi did not even participate in the vote because she was in California for the funeral of her friend, the late Senator Dianne Feinstein.
"This eviction is a sharp departure from tradition," Pelosi said in a statement. She referred to when she first became speaker in 2007, saying she had given her predecessor "a significantly larger suite of offices for as long as he wished."
"Office space doesn't matter to me, but it seems to be important to them," Pelosi said.
Republican Representative Garret Graves said Wednesday that McCarthy will be given her office instead. Graves argued the office is for the "preceding speaker" (not a rule, just politeness) and that Pelosi brought her eviction upon herself because "she and other Democrats have caused there to be an immediately preceding speaker."
Also on Wednesday, Republican leadership kicked Democratic Representative Steny Hoyer out of his Capitol office. Hoyer served as the Majority Leader while Pelosi was speaker.* Punchbowl News's Jake Sherman reported that anonymous GOP sources warned more retaliation of this kind was coming.
It's odd that Republicans are taking revenge on Democrats, considering McCarthy made it very clear that he did not want Democrats' help to stay on as speaker. He refused to even try to negotiate with them, telling reporters hours before the vote, "They haven't asked for anything. I'm not going to provide anything."
He also did a terrible job trying to negotiate with his own caucus. When McCarthy reached out to Republicans who ultimately voted against him, their conversations only "solidified" those members' resolve to oppose him, NPR reported Wednesday. One lawmaker, speaking anonymously, described the conversation with McCarthy as "condescending."
It's shocking to see that Republicans are choosing to focus on petty revenge instead of cleaning up the mess they have made. Far-right Republicans kicked McCarthy out because they didn't like the deal he struck for a continuing resolution to keep the government open. Of course, the risk of a shutdown only came about because Republicans refused to negotiate on appropriations bills.

Now Republicans have no clue what to do next or who will be the next House leader. They also only have about 40 days before the government runs out of money and faces a shutdown again. But rather than getting organized, they are fighting over office space.
* This article originally misstated Hoyer's role while Pelosi was House speaker.