Kevin McCarthy Can't Count on Democrats to Save Him. Here's Who Could.
Things are not looking good for the House speaker right now, but a handful of lawmakers could bail him out.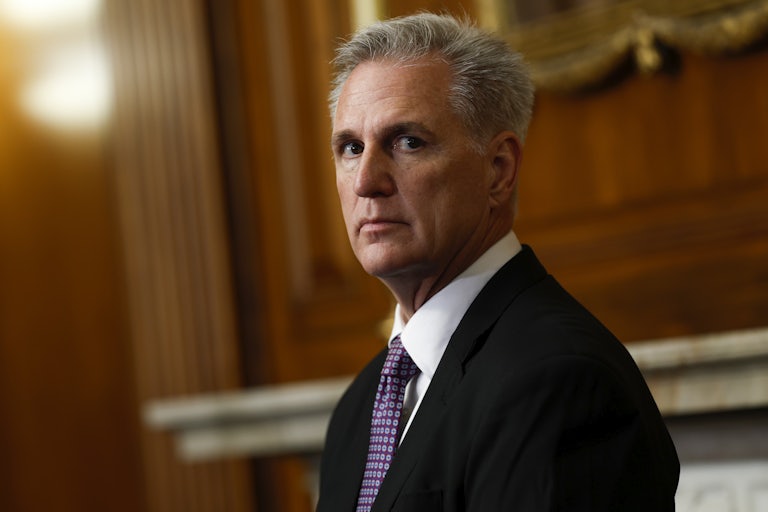 Anna Moneymaker/Getty Images
Kevin McCarthy's hold on the House speaker's gavel may soon be coming to an end.
The House is planning to begin first votes on the motion to vacate McCarthy as speaker at 1:30 p.m. on Tuesday. The vote brings the monthslong drama between the House speaker and the furthest-right Republicans, including Matt Gaetz, who filed the motion on Monday evening, to a head.
By all indications, McCarthy lacks the votes to remain in power. But these things are never over until they're over. McCarthy will have to hope against hope that a handful of the Republicans who are currently allied with Gaetz's bid to oust the speaker develop cold feet as the moment to do the deed draws nigh, and change their minds.
At the moment, that handful of Republicans McCarthy needs to keep in his pocket have indicated they want McCarthy gone. In addition to Gaetz, Representatives Bob Good, Eli Crane, and Matt Rosendale have all said they'll vote to remove McCarthy as speaker.

Representative Andy Biggs told CNN he's "favorably disposed" to the same, and Representative Tim Burchett said his "conscience" is telling him to vote McCarthy out but he's still "praying about" what to do.

Depending on how many people show up for the final vote, McCarthy can only afford to lose between four to six Republicans. So McCarthy's best bet is to win over some of the aforementioned lawmakers. Burchett is the only Republican on this list who didn't repeatedly block McCarthy's bid for House speaker back in January, so he may be the easiest to sway.

Democrats could have swooped in to save McCarthy, but on Tuesday, the caucus unified against doing so. CNN's Manu Raju reported that "every Democrat I've spoken with has come out of the meeting ready to sink McCarthy." One Democratic lawmaker told Axios that there were "surprising" members who spoke out against saving McCarthy, including many moderates. Even Representative Jared Golden, of the infamous "Blue Dog Democrats," confirmed he saw "no reason" to save McCarthy.
House Minority Leader Hakeem Jeffries said in a post on X, formerly known as Twitter, that the burden is on Republicans, not Democrats, to figure out what to do with their speakership drama, which he referred to as the "House Republican Civil War."
"We are not voting in any way that would help Speaker McCarthy," progressive Representative Pramila Jayapal said a bit more bluntly. "Nobody trusts Kevin McCarthy, and why should we?"
This story has been updated.