Blabbering Donald Trump Essentially Admits to Fraud in New York Trial
Trump thinks "it's not my fault" is a real legal defense in the trial.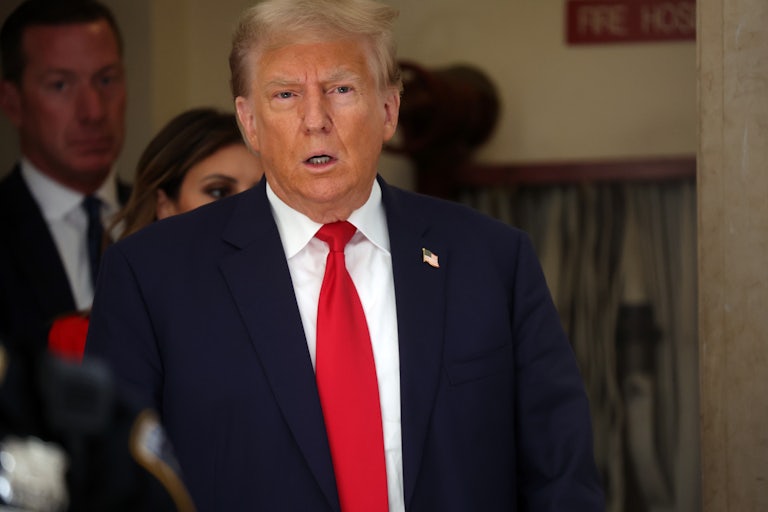 Spencer Platt/Getty Images
Donald Trump kicked off the second day of his fraud trial in New York on Tuesday by essentially admitting to the crimes.
New York Attorney General Letitia James sued Trump in September 2022 for fraud, accusing him and his associates of gaining more than $100 million by fraudulently inflating the value of their real estate assets. State Supreme Court Judge Arthur Engoron issued a partial summary judgment last week, ruling that Trump committed business fraud and ordering all his New York business certificates to be canceled, a move that could effectively kill the Trump Organization as it exists today. The trial, which began Monday, is to determine how much Trump and his co-defendants owe in damages.
Trump insisted Tuesday that his organization's financial documents were not the least bit fraudulent—but even if they were, he couldn't be held responsible because it was up to the lenders and insurers to fact-check that.
"Many, many warnings. Page one, page two, and many pages, it says, 'Please, you must understand that you have to do your own due diligence.… Do not rely on anything, do not rely on the financial statements,'" he told reporters at midday.
"Also, the financial statements are very strong in terms of cash, liquidity, and everything else. This case is a scam," Trump continued. "There can't be fraud when you've told institutions to do their own work."
One jokester on X (formerly Twitter) compared Trump's comments to saying, "Hey, if [your] bank doesn't have good security, it's all legal and cool to rob it."
James's lawsuit alleges that Trump claimed his Trump Tower apartment in Manhattan was three times its actual size and worth $327 million. No New York City apartment has ever sold for that much. He also valued Mar-a-Lago at $739 million, about 10 times its actual worth.
Trump has responded by accusing James, who is Black, of being racist against him, and Engoron of being a Democratic political operative.