House Republicans Finally Realize That Matt Gaetz Is a Raging Jerk
Republican lawmakers are so fed up with Matt Gaetz they're looking to expel him.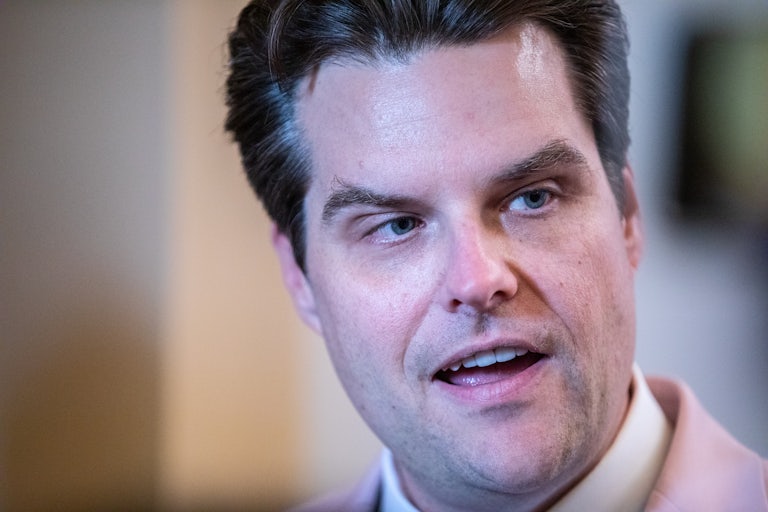 Anna Rose Layden/Getty Images
Representative Matt Gaetz
House Republicans are planning a motion to expel Matt Gaetz from the chamber, even as he continues to threaten to expel Kevin McCarthy from the speakership.
The House GOP will move to expel Gaetz if the Ethics Committee finds him guilty, Fox News reported Sunday. Earlier this year, committee investigators reopened a probe into the Florida Republican for allegations of sexual misconduct, illegal drug use, and other wrongdoings.
Gaetz's repeated threats to move to vacate McCarthy are apparently the straw that broke the camel's back. "No one can stand him at this point," a House Republican, speaking anonymously, told Fox. "A smart guy without morals."
Over the past few weeks, Gaetz repeatedly threatened to vacate McCarthy as House speaker unless the federal budget was slashed dramatically. Now that a continuing resolution has been passed to keep the government open, Gaetz has once again renewed this threat (although it remains to be seen if he'll follow through or just keep holding it over McCarthy's head).
McCarthy told CNN on Sunday that he thought Gaetz's animosity toward him was personal. "I'll survive. You know, this is personal with Matt," McCarthy said "He's more interested in securing TV interviews than doing something."
"So be it, bring it on. Let's get over with it, and let's start governing."
McCarthy also told Fox on Monday that he thought Gaetz's anger had ramped up because McCarthy refused to step in and block the Ethics Committee investigation.
The feud between Gaetz and McCarthy has grown incredibly heated in recent weeks. In mid-September, McCarthy snapped at Gaetz during a closed-door party meeting, and told him to put up or shut up.
"If you think you scare me because you want to file a motion to vacate, move the fucking motion," McCarthy reportedly said.
The two lawmakers reportedly got into another fight in a party meeting just last week.