Michigan Republicans' Plan to Overturn Voting Rights Is Sinister
Michigan Republicans are moving to gut voting rights in the state, before the next election.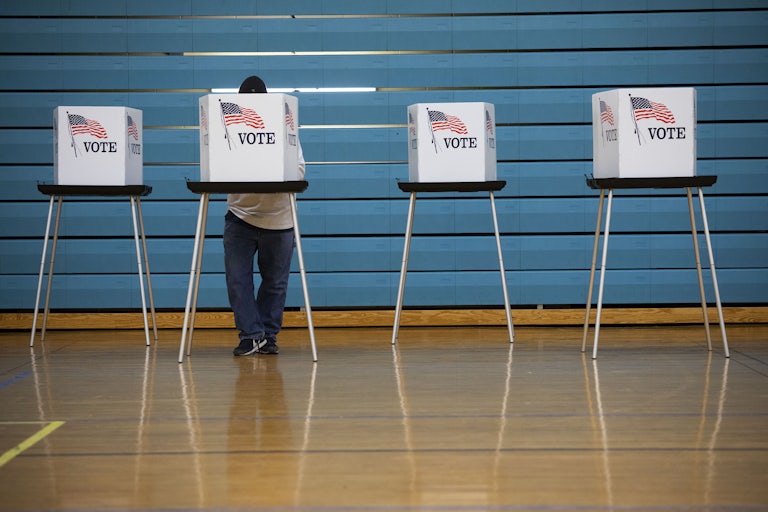 Bill Pugliano/Getty Images
A man votes in the 2022 midterm election in Lansing, Michigan.
Michigan Republicans have filed a lawsuit trying to overturn two major voting rights measures passed by voters, directly overruling the will of their constituents.
Great Lakes State residents voted in 2018 and 2022 to approve constitutional amendments that would dramatically expand voting access, guaranteeing same-day voter registration, nine days of early voting, and absentee voting, among other rights. Both measures passed with at least 60 percent support, and the state legislature has since passed laws to implement the new policies.
But 11 Republicans—two senators and nine representatives—sued Thursday to overturn those policies. The lawsuit also wants to permanently prohibit future citizen-led petition initiatives from being used to affect state election laws.
The lawmakers' argument is based on the "independent state legislature theory," a right-wing theory. At its most extreme, the theory would give legislatures unreviewable authority, blocking state courts, state constitutions, and governors from intervening regarding election law. "Granting this claim would nullify democratic guarantees embedded in virtually all state constitutions since the founding era, and never questioned until the past few years," Simon Lazarus wrote for The New Republic in November.
The Michigan Republicans argued that the citizen-led petitions unconstitutionally impinge on the state government's ability to set election laws. Donald Trump and his allies also relied on the independent state legislature theory in their effort to overturn the 2020 election. But the Supreme Court ruled against the theory in June, determining that state legislatures cannot have virtually unchecked power over federal elections.
However, Chief Justice John Roberts wrote in the majority opinion that state courts do not have "free rein" that exceeds "the ordinary bounds of judicial review," meaning state courts could interpret the ruling differently.
UCLA law professor Richard Hasen warned that Roberts's words were "going to create mischief" by giving people an opening to seek favorable rulings from lower court judges.
"This is a time bomb waiting to explode," he told NPR.