Feeling Bold, GOP Now Pushes for D.C. Cops to Use Neck Restraints and Hide Body Cams
Republicans are pretty high on the whole "overturn democratically approved D.C. reforms" thing.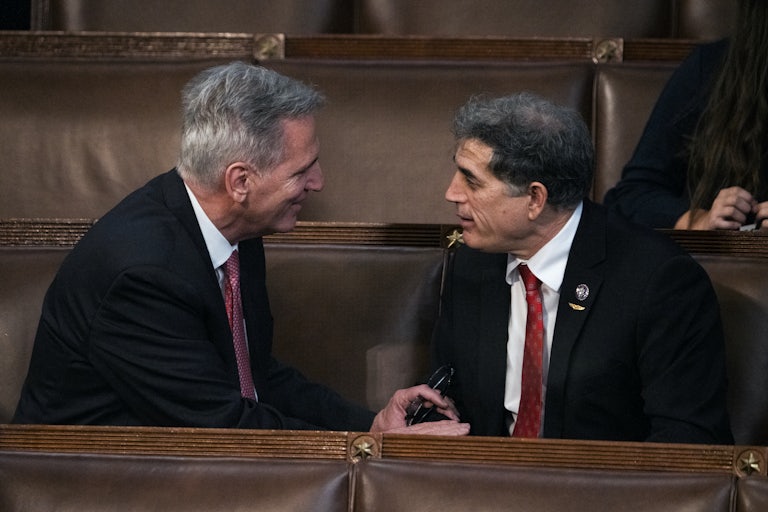 Tom Williams/CQ-Roll Call, Inc/Getty Images
Representative Andrew Clyde (right) talks to Kevin McCarthy during the speaker of the House drama in January 2023.
Not even a full day after the Senate overwhelmingly voted to overturn Washington, D.C.'s criminal code updates, Republicans are now pushing for D.C. officers to be able to put people in chokeholds and more easily hide their body camera footage.
Republican Representatives Andrew Clyde and Andrew Garbarino introduced a House resolution Thursday targeting criminal justice and policing reforms made in the aftermath of a string of police killings, including the deaths of George Floyd and Breonna Taylor.
The duo is specifically targeting D.C.'s Comprehensive Policing and Justice Reform Emergency Amendment Act of 2022, Axios reports. The D.C. legislation, which passed the City Council last year but is now being reviewed by Congress, enacts an array of reforms, such as outlawing the use of neck restraints, like that used by Minneapolis Police Officer Derek Chauvin to kill Floyd in May 2020. The bill also calls to make body camera footage of officer-caused deaths or serious uses of officer force more accessible to the public.
The D.C. legislation also seeks to expand membership and inclusion on governing bodies like the Police Complaints Board and Use of Force Review Board. It would also ban employment of new officers if they were previously determined by agencies to have committed serious misconduct or to have been forced out of previous roles for "disciplinary reasons."
Some of the policies, like banning police neck restraints, had been enacted through temporary legislation since the summer of 2020. But all these were to be codified by the broader reform package that Republicans are now vying to overturn. Axios reports that the resolution to overturn such baseline reforms already has 15 co-sponsors.
While this new GOP effort in favor of chokeholds and against democratically approved reforms may seem particularly brazen, it's clearly about momentum. Just yesterday, a successful right-wing-driven campaign against D.C. updating its 100-year-old criminal codes led to 81 senators voting to overrule the criminal code updates.
The updated criminal codes were even more modest than the police reforms now being challenged; they mainly dusted off archaic standards and effectively made it easier for courts to prosecute crimes. But overturning these mild policies clearly emboldened Republicans to go a step further.