Nashville Rep. Andy Ogles Still Hasn't Taken Down This Horrific Instagram Post After School Shooting
The Republican representative has refused to discuss gun control following the mass shooting in his district.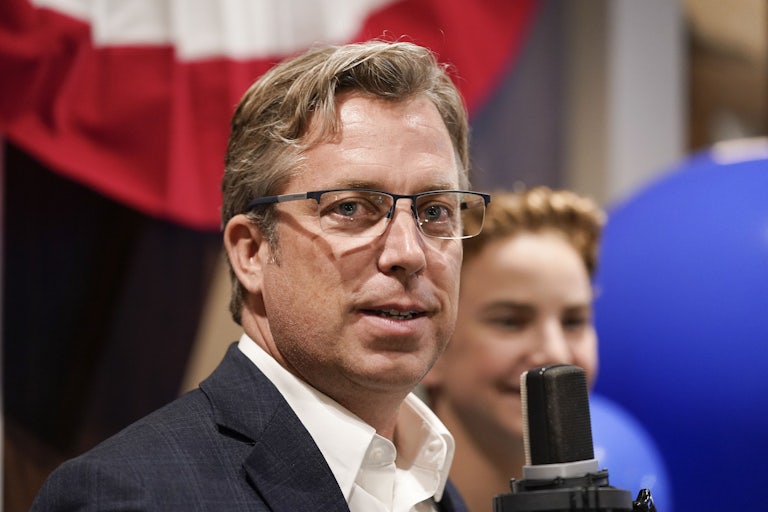 Mark Humphrey/AP/Shutterstock
Tennessee Representative Andy Ogles is learning the hard way that the internet has a long memory, as people called him out for an old Instagram post showing his infant son holding a gun.
The Republican lawmaker, known for fabricating parts of his résumé, has come under increased scrutiny since a shooter opened fire Monday on a private Christian elementary school in Nashville, killing at least three children and three adults and wounding several others. Ogles, who represents the district that the Covenant School is located in, has done little more than offer bland statements.
On Wednesday, Kat Abughazaleh, a video producer at Media Matters, found one of Ogles's old Instagram posts.
The photo shows Ogles's youngest child holding an automatic rifle. At the time of writing, the post was still up.
People flocked to comments on the 2016 post, calling out Ogles's hypocrisy in light of Monday's shooting.
"How do you sleep at night knowing innocent children die and are forever traumatized on your watch and you do nothing," one commenter said.
Another said, "This is not what responsible gun ownership looks like. This is performative nonsense."
A third summed it up best: "I don't care if it's a toy—you are joking about training a toddler to shoot a gun. It isn't funny. Parents are burying their kids. Guns are the leading killer of children in this country. Why are you a proud contributor to this madness, @andrew.ogles?"
Ogles already saw widespread backlash Monday when internet users dug up an old family Christmas card of his. In the picture, Ogles, his wife, and their two oldest children hold automatic rifles while posing in front of the Christmas tree. The youngest apparently is only allowed to hold guns on Instagram and so has to hold the "Merry Christmas" sign. Ogles deleted the photo after the criticism, but maintained he does not regret taking it.