Senate Moves To Finally Repeal 1991 and 2002 Iraq War Authorizations
The symbolic AUMF vote comes ahead of the 20th anniversary of the 2003 invasion of Iraq.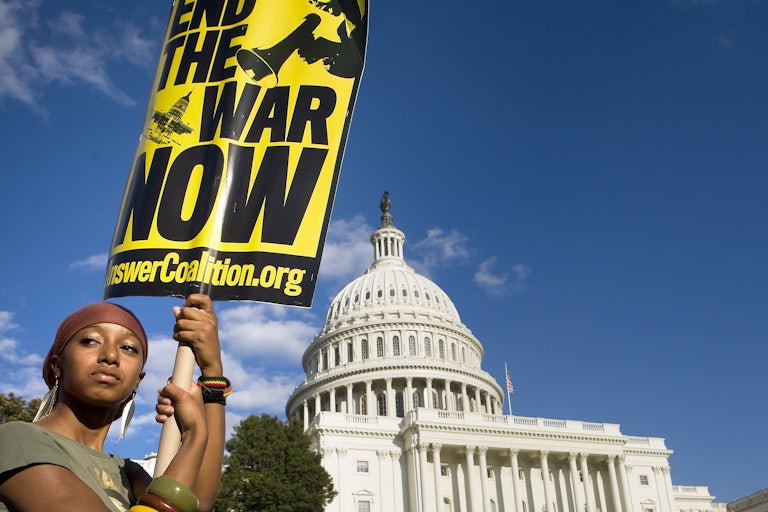 Brendan Smialowski/Getty Images
An anti-war protester holds a sign up in front of the Capitol on September 15, 2007.
On Thursday, the Senate voted 68–27 to advance legislation that would repeal the 1991 and 2002 Authorizations for Use of Military Force, or AUMFs, against Iraq.
The bipartisan legislation seeks to eliminate the authorizations that opened the door for the Gulf War under President George H.W. Bush, and the invasion of Iraq under President George W. Bush. Monday will mark 20 years since the 2003 invasion.
Repealing military authorizations has been an ongoing struggle. In June 2021, the House voted 268–161 to roll back the 2002 AUMF but the effort fizzled away in the Senate.
The 2001 AUMF after September 11, however, is untouched by this legislation. In its endorsement of the legislation to repeal the 1991 and 2002 authorizations, the Biden administration noted that the U.S. "conducts no ongoing military activities that rely primarily" on the two authorizations. "Repeal of these authorizations would have no impact on current U.S. military Operations," the administration notes.
The 2001 AUMF has been used to justify U.S. action in Afghanistan, Cuba, Djibouti, Eritrea, Ethiopia, Georgia, Iraq, Kenya, Libya, the Philippines, Somalia, Syria, and Yemen, among others.

Thursday's advancement to repeal the 1991 and 2002 authorizations follows the House last week rejecting a War Powers Resolution that would have required a withdrawal of all U.S. troops from Syria. Only 56 Democrats and 47 Republicans voted in favor of the resolution.
So while the move to advance the legislation is encouraging, it's worth noting that the advancement is largely symbolic. Which is not to say it's futile: Symbols, especially for a country in which so much violence has been spurred by them, are still significant. The last time Congress repealed a war authorization was in 1971 when it voted to repeal the Gulf of Tonkin Resolution that provided authority for the Vietnam War.
Ideally, the legislation will continue advancing, be signed by Biden promptly, and even galvanize support to confront the 2001 AUMF. At the same time, it's already been more than 30 years since the first authorization, and it still hasn't been repealed. Before considering ideal outcomes, pressure will need to be maintained at least to repeal this first pair of authorizations. For now, it's one bite at a time—it's just prudent we stay hungry enough to keep going.