Josh Hawley, Only Senator to Vote Against Anti-Hate Crimes Bill, Wants to Call Nashville Shooting Hate Crime
Stunning hypocrisy from the Missouri senator.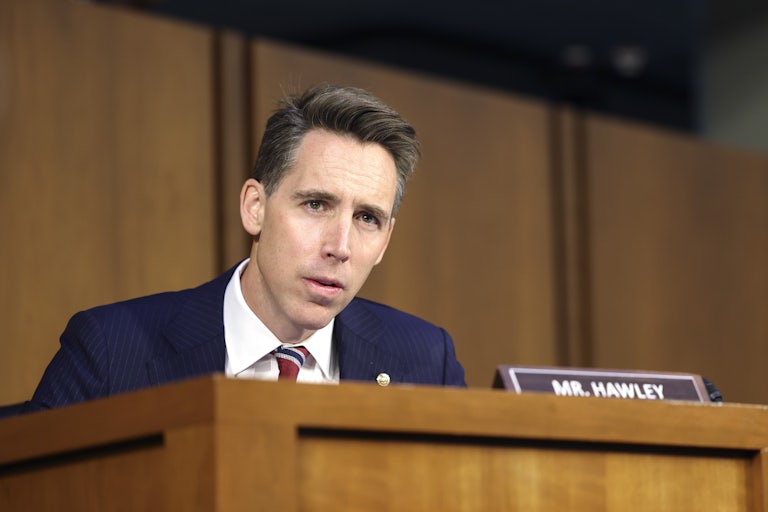 Kevin Dietsch/Getty Images
Senator Josh Hawley
In the spring of 2021, Congress passed a bill to support hate crime victims and better prevent and investigate hate crimes. It passed the Senate 94–1; Josh Hawley was the only senator to vote no. Now, he wants to investigate the Nashville mass shooting as a hate crime.
Hawley on Tuesday called the Nashville school shooting a "hate crime" on the basis that it "specifically targeted … the members of this Christian community." Hawley cited federal law that "prohibits the targeting of violence against any American on the basis of religious affiliation or religious practice or religious belief."

In other words, Hawley referred to the kind of hate crime guidance that he stood proudly alone in voting against just two years ago.
The difference, of course, is that the 2021 hate crimes bill Hawley voted against focused on the rise in anti-Asian hate since the Covid-19 pandemic. Hawley has similarly not seemed interested in hate crimes when it comes to other communities. He did not, for instance, make similar calls for hate crime investigations after the May 2022 shooting in Buffalo, New York. That attack was carried out by a white 18-year-old who left behind a manifesto that explicitly laid out the motivations behind his decision to kill 10 Black people at a grocery store.
In the manifesto, the shooter described himself as an ethno-nationalist and white supremacist, voicing support for the vicious "Great Replacement" conspiracy theory that peddles nonsense about a "white genocide."
After the Buffalo shooting, members of Congress began pushing for a Domestic Terrorism Prevention Act, which sought to establish offices to focus on neo-Nazi and white supremacist terror threats. Hawley stood in full opposition to the bill, calling it the "Patriot Act for American citizens." (The Patriot Act, a vestige of 9/11, already was policing American citizens, but perhaps Hawley didn't reflexively think of them as such since they were largely brown men.) And while it's fair to be hesitant about increasing American policing power, Hawley did not offer any meaningful alternatives to confront white supremacy (nor has he been a critic of law enforcement overreach when it comes to marginalized people anyhow).
No mass shooting should happen, no matter the perpetrator. But instead of aiming to address actual causes of such tragedies, Hawley is, in full view, showing how troublingly inconsistent he is on the issue of hate crimes and violence.