"Aren't You Guys Tired of Covering This?": Mom Interrupts Fox News Segment on Nashville School Shooting
A woman who survived one mass shooting and went on vacation to Nashville found herself at the site of another one.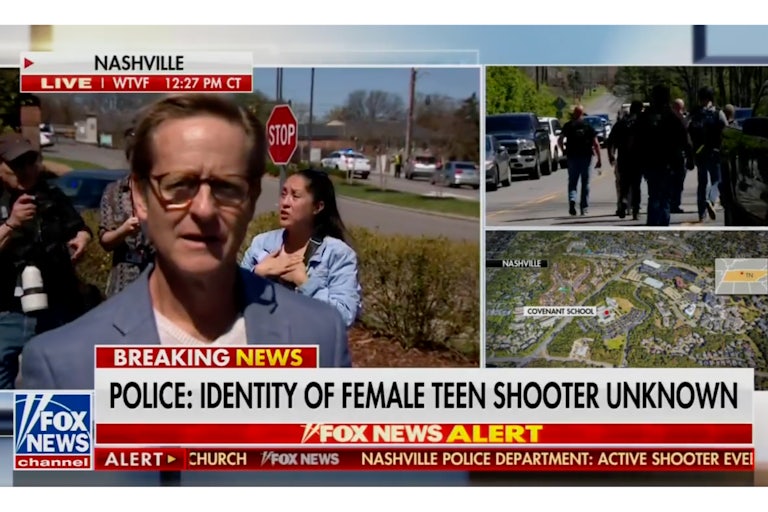 Screenshot/Fox News
A woman who had survived a previous mass shooting interrupted a Fox News live report Monday to demand more gun control legislation, after a shooter opened fire on a school in Nashville.
At least three children and three adults were killed in the attack on a private Christian elementary school, and several others wounded. As reporters gathered for a press conference, one woman ran up to the microphones, cutting off a Fox News reporter before he could begin his live shot.
"Aren't you guys tired of covering this? Aren't you guys tired of being here and having to cover all of these mass shootings?" she asked, explaining that she lives in Highland Park, Illinois. The suburb of Chicago was rocked last summer after a man opened fire on the Fourth of July parade.
"How is this still happening?" the woman, who told CNN her name is Ashbey Beasley, demanded, explaining she has been lobbying in Washington, D.C., for increased gun control since the shooting in her hometown.
"How are our children still dying, and why are we failing them? Gun violence is the number one killer of children and teens."
On Fox News, the clip suddenly cut out as Beasley discussed the lack of proper gun storage laws.
Beasley told CNN that she had come to Nashville with her son to visit friends and family, only to find themselves right next to a second mass shooting.
"It's only in America can somebody survive a mass shooting and then go on vacation …and find themselves near another mass shooting," Beasley said.

Beasley noted "how preventable these incidences are," calling out politicians who refuse to pass gun control legislation.
The attack at the Covenant School was the 129th mass shooting of the year, according to the Gun Violence Archive. There have been 89 days in 2023 so far.