GOP Rep. Andy Ogles Said He's an Economist, but He Barely Passed His One Econ Class in College
A Tennessee outlet published a copy of Ogles's college transcript, revealing that the lawmaker lied about his major.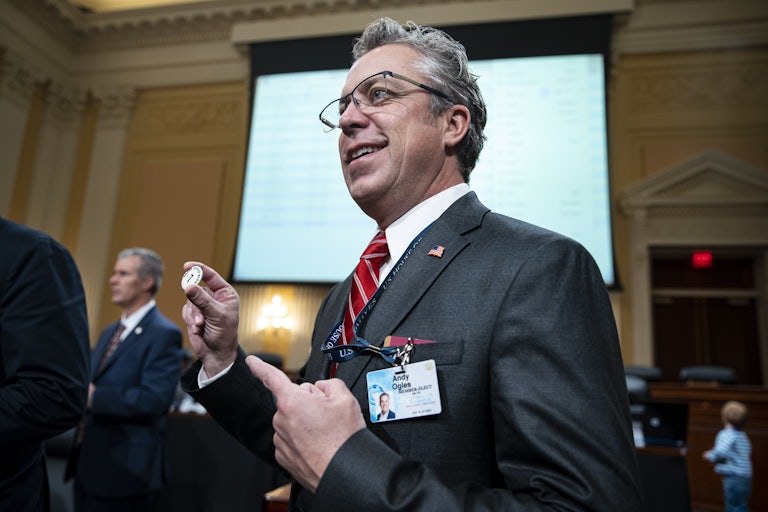 Al Drago/Bloomberg/Getty Images
Tennessee Representative Andy Ogles appears to have lied about his background, making him the latest freshman member of Congress to come under fire for apparently fabricating parts of his résumé.

The Republican says he studied "policy and economics" at Middle Tennessee State University, but an investigation by NewsChannel 5 has found that may not be the case at all.
The Nashville outlet found a copy of Ogles's college transcript that he submitted as part of a job application 10 years ago. They also found a résumé from 2009, on which Ogles said he majored in international relations, not economics.
According to the transcript, Ogles enrolled in the university in 1990 and finally graduated in 2007. During that time, he took only one economics class, in which he got a C. He also got a C in American history, and he flat-out failed the nine political science courses he took during his college career. Ogles did get an A in theater appreciation, though, which could explain his apparent penchant for dramatic embellishment.
When he finally graduated, it was with a bachelor's in liberal studies, a generalized degree for people who do not pick a specialized major.
Last week, a NewsChannel 5 investigation cast doubt on other aspects of Ogles's résumé, revealing that he exaggerated a career in law enforcement and as an expert on international sex crimes. Ogles claimed that he worked with anti–human trafficking group Abolition International in 12 countries. But Abolition International did not have operations in 12 countries during his time working for them.
Ogles released a statement Sunday night saying that he thought he had fulfilled a political science and international relations major, and it wasn't until he saw his official transcript last week that he realized he had majored in liberal studies.
But Randy Stamps, the former political director for the Tennessee Republican Party, slammed Ogles for the "level of deception" the congressman was willing to go to.
"If he is willing to run around and say, 'Hey, I'm an economist,' who knows what else he is going to tell you that is not true," Stamps told NewsChannel 5. Stamps had broken with his party and endorsed the Democratic candidate during the 2022 midterms because he said he found Ogles so untrustworthy.
Ogles isn't the first—or frankly, even the most out-there—instance of a member of Congress seemingly making up parts of their background. By this point, everyone has heard about George Santos and his web of falsehoods, from saying his mother survived 9/11 (she was not even in the country) to seemingly lying that his grandparents fled the Holocaust and four of his employees were killed in the Pulse nightclub shooting. Florida Representative Anna Paulina Luna has also claimed Jewish heritage, but not only does she appear to have no ties to Judaism, her grandfather may have served in the Nazi army.