GOP Rep. Andy Ogles Seems to Have Kept $25,000 From a GoFundMe for a Child Burial Garden
The freshman Republican raised the money using a photo of his stillborn child.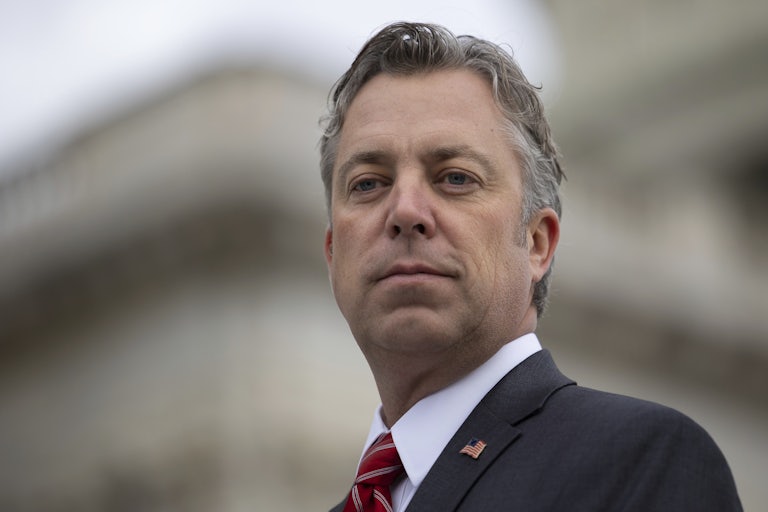 Francis Chung/POLITICO/AP Images
Representative Andy Ogles
Tennessee Representative Andy Ogles appears to have kept money raised through a charitable GoFundMe event, making him the second freshman Republican member of Congress in hot water over dubious fundraising efforts.
An investigation by NewsChannel5 found that Ogles set up a GoFundMe in 2014 after his son was stillborn. Ogles said he wanted to build a garden where families could bury their stillborn children and sit on benches by the gravestones. The GoFundMe raised almost $25,000, but the garden was never built.
GoFundMe confirmed that Ogles received the money. He declined to answer any of NewsChannel5's questions about what happened to the funds:
"Congressman, this doesn't have to be a story if you just offer some evidence it went for a good cause," we told him, as he got into a truck and slammed the door.
Ogles had told The Tennessean in 2015 that "burials are heavily regulated," preventing them from buying all the plots necessary to start the garden. He promised that none of the money had been spent.
The funeral director of Williamson Memorial Funeral Home was quoted in the same story saying she planned to meet with the Ogles family to help organize their plans. But eight years later, she told NewsChannel5, the family never followed up with her.
One donor, speaking anonymously, said he asked Ogles what happened to the money and, when he didn't get a clear answer, asked for a refund. This donor got his money back, but others said they were not given the same option.
Ogles is already under fire for appearing to lie about his background. Another NewsChannel5 investigation revealed that although the lawmaker says he studied "policy and economics," his college transcript shows that Ogles majored in liberal studies and actually failed the one economics class he took.
The Tennessee Republican isn't the first member of Congress seemingly making up parts of their background. One of George Santos's many falsehoods is that in May 2016, the New York representative allegedly raised $3,000 for a homeless and disabled veteran's service dog—only to take the money and run.
Santos also appears to have lied that his mother survived 9/11 (she was not even in the country), that his grandparents fled the Holocaust, and that four of his employees were killed in the Pulse nightclub shooting, among many, many other examples.
Florida Representative Anna Paulina Luna has also claimed Jewish heritage, but not only does she appear to have no ties to Judaism, her grandfather may have served in the Nazi army.