The Internet Won't Let Nashville Rep. Andy Ogles Forget His Family Christmas Card After School Shooting
Ogles offered his constituents "thoughts and prayers" after a school shooting in his district.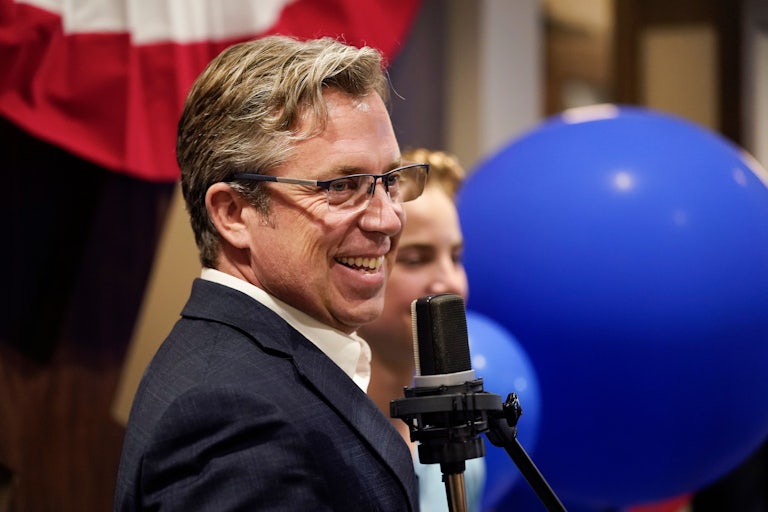 Mark Humphrey/AP/Shutterstock
Representative Andy Ogles
Tennessee Representative Andy Ogles was put on blast Monday for old posts on social media, as people called out his hypocrisy in light of a school shooting in his district earlier in the day.
A shooter opened fire at a private Christian elementary school in Nashville, killing at least three children and three adults and wounding several others. Ogles, who represents the district that the Covenant School is located in, was quick to offer a bland, anodyne statement in response.
"We are sending our thoughts and prayers to the families of those lost. As a father of three, I am utterly heartbroken by this senseless act of violence. I am closely monitoring the situation and working with local officials," he tweeted.
People did not hold back in the comments, dragging him for using the standard Republican "thoughts and prayers" line. Many were also quick to share an old family photo of his.
In the photo from the 2021 Ogles family Christmas card, the representative, his wife, and their three children pose in front of a Christmas tree. They're all holding automatic rifles, except the youngest, who apparently is too young for a gun just yet and so has to hold the "Merry Christmas" sign.
Another user shared one of Ogles's old tweets. "Last time I checked 'rights' don't include killing innocent babies," he said in January.
Ogles's tweet was referring to abortion access, but neither it nor his Christmas card have aged well, given Monday's events.
The attack at the Covenant School was the 129th mass shooting of the year, according to the Gun Violence Archive. We are only on day 86 of 2023.
Ogles, a freshman representative, also was elected to Congress after fabricating large parts of his résumé.