Kevin McCarthy Made a Secret Deal With Tucker Carlson to Become House Speaker
Former Fox producer Abby Grossberg says McCarthy called up the ex-Fox host to discuss his terms.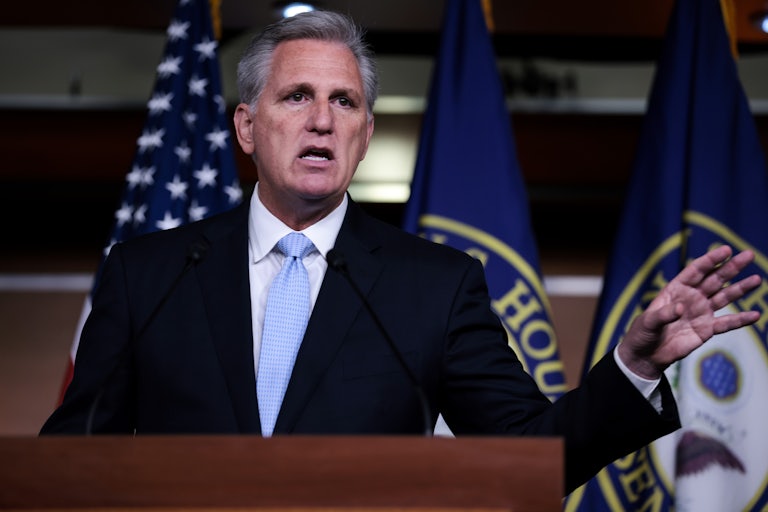 Anna Moneymaker/Getty Images
"They believed that he could broker who was House speaker. He wanted to do that live on air."
This is what Abby Grossberg, the former Fox producer currently suing Tucker Carlson for discrimination, said about the then–Fox host's apparent plans to work with Republican leader Kevin McCarthy in his bid to secure the speaker's gavel. Grossberg's comments came during an interview with Anderson Cooper on Tuesday night.
"[Tucker's] plan was to have Kevin McCarthy come on the show," Grossberg began. "Tucker a few days earlier had sort of set some terms for McCarthy, which included this Church kind of committee."

Grossberg was likely referring to demands Carlson had made on January 3, including putting Representative Thomas Massie in charge of a "new Frank Church Committee" to investigate the FBI and other intelligence agencies.
"So, fast-forward to January 5, they start asking me to book McCarthy on the show that night," Grossberg continued. "That afternoon, Justin [Wells, former Tucker Carlson producer] came in, and he said, here's the plan: 'Tucker's gonna first have Kevin on, hear him beg and grovel. Then we'll bring in Matt Gaetz, and Matt Gaetz will then kind of set his terms. Then Tucker will set his terms that McCarthy has to agree to … and we're going to make this whole thing happen on air and save the Republican Party.'"
And the timeline, from the initial demands made by Carlson on January 3 to what happened next with regard to this grand plan to "save the Republican Party," indeed seems to check out.
"Fortunately, for McCarthy's sake, he said no," Grossberg said. "But he did call Tucker the next day from his office with Representative Thomas Massie and had agreed to some of Tucker's terms, according to a text that Tucker had sent me, and he said that was a win."
What affirms this timeline? Carlson's own show. On January 6, the two-year anniversary of the attack on the Capitol, Carlson celebrated McCarthy's announcement to create a new Frank Church Committee—headed by, yes, Representative Thomas Massie.
"Looks like he's going to be speaker, and his plan, we have just learned, is to appoint really one of the most honest and dogged members of Congress—we'll just say it—Thomas Massie of Kentucky, to head that committee," Carlson said on air.
"MCCARTHY AGREES TO PUT MASSIE ON NEW FRANK CHURCH COMMITTEE," the Fox chyron blared, hinting at the fact that this was not some surprise plan that Carlson "just learned."
"We were working to make sure that this Church Committee—a suggestion that you've had, and thank you for suggesting that I should be on it, I don't know if you're clairvoyant or just made the future happen, but it's happening," Massie said to Carlson with a grin and eyebrow raise.
Carlson flashed a momentary tight-lipped smile.