Democratic Senator Calls for Clarence Thomas to Resign: "He Cannot Judge Right From Wrong"
The calls for the Supreme Court justice to step down are growing.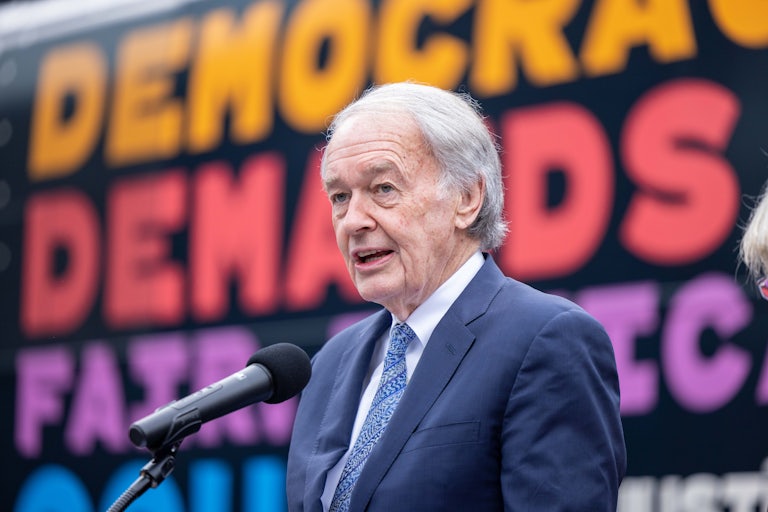 Scott Eisen/Getty Images for Just Majority
On Monday, Senator Ed Markey joined the growing calls for Supreme Court Justice Clarence Thomas to resign.*
"I will say what needs to be said: Clarence Thomas should resign from the Supreme Court of the United States. His reputation is unsalvageable," the Massachusetts senator said. "It is evident that he cannot judge right from wrong, so why should he be judging the country's most important cases on the highest court?"
Markey made the comments while flanked by Representative Ayanna Pressley and Senator Elizabeth Warren in Boston, during the kickoff of a 20-stop tour focused on advocating for tighter ethical restrictions on the Supreme Court.
The tour follows a stream of revelations about the secret and extremely lavish gifts Thomas has received for decades from billionaire GOP megadonor Harlan Crow. The undisclosed offerings from the Nazi memorabilia–collecting billionaire included luxurious island-hopping excursions on superyachts and even a secret deal in which Crow bought Thomas family property and proceeded to upgrade it while Thomas's mother still lived in it.
The trio's kickoff also came a day before revelations that Justice Neil Gorsuch successfully sold a 40-acre property that he had been trying to sell for two years to an undisclosed buyer; the buyer of the nearly $2 million Colorado ranch was the CEO of a law firm that has since had 22 cases with business before the court.

Along with calling for Thomas's resignation, Markey joined Warren and Pressley in calling for broader reform to the courts.
Markey assailed the court as being "broken," with justices flouting financial restrictions and ethical standards while the court inflicts "painful real-world consequences" upon people. He listed an array of cases as evidence of how people's "most fundamentally held freedoms are under siege."

Dobbs, which overturned Roe v. Wade and the right to an abortion, has brought consequences "splattered across the national news and suffered in private, in doctors' offices, and in kitchen tables all across the country."
New York State Rifle and Pistol Association v. Breun, which overruled New York's law that required people to have a license to carry concealed weapons in public places had the court ignoring "the suffering of families who have lost lives from the unrepentant score of gun violence in our nation."

Limiting the EPA's ability to regulate greenhouse gas emissions from power plants in West Virginia v. EPA "tied the hands of regulators who are attempting to take lifesaving measures to shield our children from the most devastating and fatal effects of climate change."
"But when something is broken, we don't just agonize, we organize," Markey insisted.
The Massachusetts lawmakers all proposed expanding the size of the court—which has been done seven times in the past—and enacting a much stronger ethics regime on the court.

"No one should have to wonder whether the justice who heard their case ignored the law because his wife had a stake in the outcome, or his friend who takes him on half-million-dollar vacations wanted him to rule a certain way," Warren said.
Markey is among only a few lawmakers who have called for Thomas's resignation, but the broader calls for a more fair Supreme Court are certainly not a minority opinion. Earlier this month, Senator Richard Blumenthal called for the Supreme Court justice to step down, as have a few representatives in the House. Nearly two-thirds of Americans no longer have confidence in the Supreme Court as it stands now, according to a poll conducted earlier this month.

The figures reflect the lawmaker's point of how a demonstrably unethical court is issuing life-changing opinions on everything from abortion access to the health of America's environment.
Pressley called for "justice for the most marginalized," in a nod to the millions impacted by the rogue court's decision-making.

"Angela Y. Davis said, I'm no longer accepting the things I cannot change. Instead, I'm changing the things I can no longer accept."
* This post originally misstated that Markey was the first senator to call for Thomas's resignation.