Missouri Republican Pushing Anti-Trans Bill Ends Up Defending Child Marriage
This was never about "saving the children."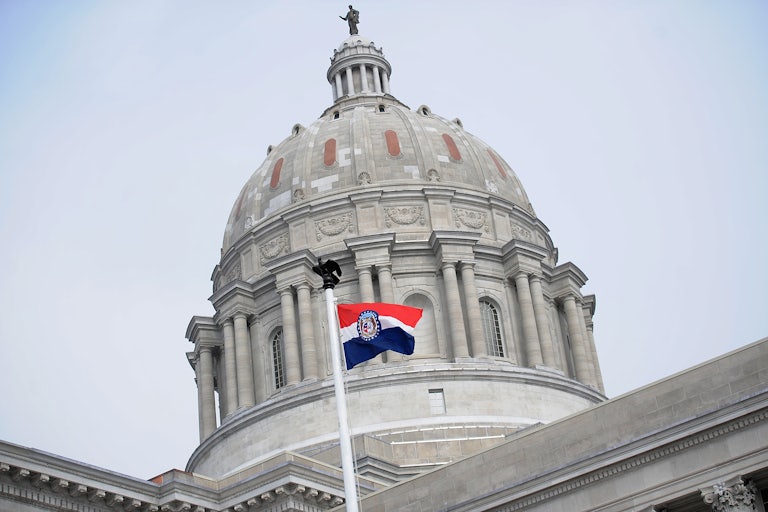 Michael B. Thomas/Getty Images
Missouri state Capitol building
"Do you know any kids who have been married at age 12? I do," said Missouri Republican state Senator Mike Moon. "And guess what? They're still married."
Moon's concerning comments came Tuesday during a debate on a bill he had been pushing to ban gender-affirming care for transgender people under the age of 18. Moon made the comments in response to Democratic state Representative Peter Merideth, who was attempting to highlight the hypocrisy of the Missouri Republican's supposed concern for children.
"I've heard you talk about parents' rights to raise their kids how they want. In fact, I just double-checked. You voted 'no' on making it illegal for kids to be married to adults at the age of 12, if their parents consented to it," Merideth said to Moon. "You said, actually, that should be the law because it's the parents' right and the kids' right to decide what's best for them. To be raped by an adult."
That was when Moon shared his anecdotal story on a successful child marriage.
Moon's bill passed through the House 106–45 on Tuesday; a companion bill passed the Missouri Senate in late March. Missouri's Republican Governor Mike Parson has supported limiting health care for trans kids.

As the Springfield News-Leader reports, Moon's support for child marriage spans to at least 2018, when he voted against a bill that raised the minimum legal marriage age from 15 to 16 and required parental permission for older teenagers to marry. While the bill ultimately passed, Moon was steadfast in his opposition, even leaning on the same anecdote of a couple he had known who married at age 12.
At the time, he said the example was "something to ponder."
Something else to ponder, of course, is Moon's incredibly tenuous logic.
While Moon's anecdote was ostensibly about two similarly aged minors getting married, Merideth's broader point gets at the basic foolishness of it all. Moon is imposing his will to legislate banning children from accessing lifesaving and humanity-affirming treatment under the same vector of "saving the children" that ought to actually be used to legislate away the threat of exploitation in child marriages.