Congress Has Known About John Roberts's Wife's Shady Financial Dealings for Months
Another financial scandal for another Supreme Court justice.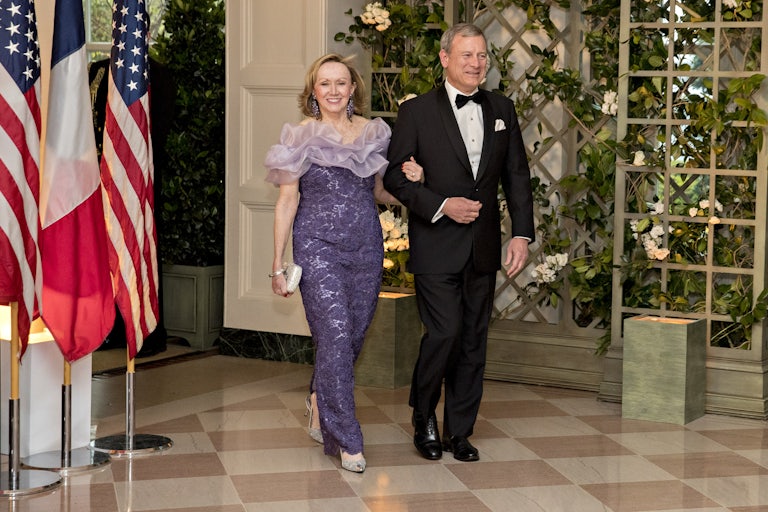 Andrew Harrer/Bloomberg/Getty Images
Jane Roberts, the wife of Supreme Court Chief Justice John Roberts, has allegedly been paid more than $10 million by an array of high-class law firms; at least one of these firms argued a case before her husband in the Supreme Court, after paying her hundreds of thousands of dollars. And the cherry on top is that Congress has known about these allegations for months.
The Senate Judiciary Committee has come under immense pressure to do something, anything, in the face of numerous revelations of how crooked America's Supreme Court is. Justices Clarence Thomas and Neil Gorsuch have both been reported to have participated in shady dealings; frustration mounted as Roberts has refused to cooperate with the Senate Judiciary Committee in responding to the troubling allegations.
And now it's becoming more and more clear why: It's a small club, and Roberts has no problem being part of it.
Business Insider reports that two years after Roberts ascended to lead the court in 2005, his wife, Jane, pivoted from an illustrious career as a lawyer to become a legal recruiter, matching lawyers up to elite corporations and firms. Between 2007 and 2014, Jane Roberts cashed in $10.3 million in commissions in her newfound career. And the complaint pressing forward the revelations was filed in December; reporting on Jane Roberts's ethically questionable career vis-à-vis her husband's position had been published even back in January.
The allegations come from Jane Roberts's old colleague Kendal B. Price, who worked at the same recruiting firm she did. In Price's complaint, he explains that a partner at the firm told him Jane Roberts was "the highest earning recruiter in the entire company 'by a wide margin.'" While she surely may be highly qualified, the eye-popping numbers cause even more concern around the question of how Supreme Court justices and their families enrich themselves—particularly at the expense of judicial responsibility, given that some of the firms Jane Roberts profited from would then appear in front of the court led by her husband.
"She restructured her career to benefit from his [John Roberts's] position," Price wrote in an affidavit. "I believe that at least some of her remarkable success as a recruiter has come because of her spouse's position."
The details of exactly how much Jane Roberts has made follows the stream of revelations related to other conservative justices on the court. Justice Thomas has received secret and lavish gifts for decades from Nazi memorabilia–collecting billionaire and GOP donor Harlan Crow, including luxurious island-hopping excursions on superyachts and even a secret deal in which Crow bought Thomas family property and proceeded to upgrade it while Thomas's mother still lived in it.
Last week, it was revealed that Justice Neil Gorsuch successfully sold a 40-acre property that he had been trying to sell for two years to an undisclosed buyer; the buyer of the nearly $2 million Colorado ranch was the CEO of a law firm that has since had 22 cases with business before the court.
Amid all this, Senate Judiciary Committee Dick Durbin has continued to remain under fire. He has spent weeks now kindly passing the buck to Justice Roberts to lead reform on ethical standards for the court; he has seemingly done so while knowing that Roberts himself is implicated in potential ethics violations. Meanwhile Durbin has refused to eliminate a blue slip rule that has prevented Democrats from confirming more judges—especially while Senator Dianne Feinstein remains absent.
In the face of corruption, elected officials can either respond appropriately or maintain false hope in the system that created such corruption in the first place. The more Durbin and his colleagues continue to do the latter, the more they actively allow and even encourage further corruption.