The Growing Number of Lawmakers Calling on Clarence Thomas to Resign—or Be Impeached
Here's a list of every member of Congress calling for Clarence Thomas's removal from the court.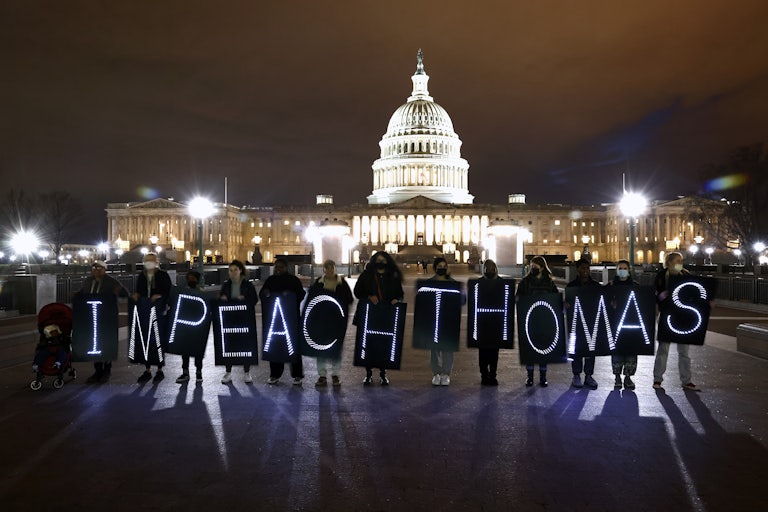 Paul Morigi/Getty Images for MoveOn
Clarence Thomas was confirmed to the highest court in the United States by a narrow margin of 52–48, after fending off numerous sexual harassment allegations. Since then, perhaps buoyed by his success in evading accountability, he and his wife have only grown more brazen in flouting ethical standards and disrespecting whatever integrity the Supreme Court could symbolize.
Reporting from ProPublica has revealed an extraordinarily troubling relationship between Thomas and megabillionaire GOP donor Harlan Crow. The Nazi memorabilia–collecting billionaire footed the bill for the private school tuition of a family member Thomas was raising "as a son." Crow has also lavished the Supreme Court justice with luxurious island-hopping excursions on superyachts and even closed a secret deal in which he bought Thomas family property and proceeded to upgrade it while Thomas's mother still lived in it. Thomas's "son" had joined in on many of the exotic family adventures with Crow too.
All these revelations follow other scandals, like that Thomas's wife, Virginia "Ginni" Thomas, texted with then–White House Chief of Staff Mark Meadows to strategize how best to overturn the 2020 presidential election.
None of this includes numerous other ethically questionable notches on Thomas's belt. For instance, in the early years of the Trump presidency, Ginni Thomas was paid $200,000 by a far-right group supporting the Muslim Ban.
Months later, Thomas joined the 5–4 majority that upheld the ban.
With that in mind, here is the not-long-enough list of Democrats honorable enough to call for Clarence Thomas's impeachment or resignation.
House
Alma Adams

Don Beyer

Cori Bush

Chuy Garcia

Hank Johnson

Ro Khanna

Summer Lee

Alexandria Ocasio-Cortez

Ilhan Omar


Bill Pascrell Jr.

Nydia Velázquez
Senate
Richard Blumenthal

Ed Markey