An Entire Florida School District Has Banned a Kids' Book on Segregation
The district pulled the book after one parent complained.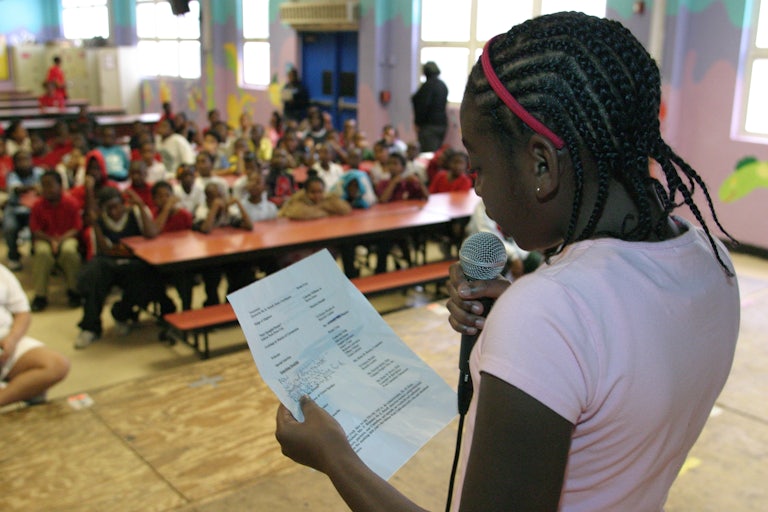 Jeffrey Greenberg/Universal Images Group/Getty Images
A Florida school district has banned a book about segregation after one parent complained, part of a disturbing trend of state schools blocking discussions of racial justice.
The Wakulla County school district decided in October to remove the graphic novel Little Rock Nine from its libraries after reviewing a complaint from a parent. The school that initially banned the book did not give more details on why the parent complained but said it had decided that even though the book is historically accurate, its subject matter is "difficult for elementary students to comprehend."
Florida schools begin teaching about segregation in fourth grade, but the book—which is written at a third-grade level—has been deemed "above the understanding" of all elementary students.
Instead, it will only be allowed in middle and high school libraries because "some students in middle or high school might be at a third grade reading level and could gather knowledge from the material," the school principal and librarian said.
This book ban is the latest instance to come to light of Florida restricting what can be taught or even read in schools, usually on topics involving race, gender, and sexuality. In March, an elementary school in Pinellas County banned the movie Ruby Bridges after one parent complained that she didn't like how it depicted race relations in 1960s America. Earlier this year, Pinellas County school officials also banned high school students from reading The Bluest Eye by Toni Morrison—again after just one parent complained.

Florida is increasingly restricting what can be taught in schools at all levels. Governor Ron DeSantis has declared war on "wokeism" and has promised to defund diversity, equity, and inclusion programs on college campuses. He has backed the Stop Woke Act, which restricts teaching about race in colleges, and announced plans to mandate Western civilization courses. His administration was also in close contact with the College Board as it gutted the A.P. African American Studies course.
But the book bans go a step further, as they aren't even about changing the school curriculum but preventing students from reading the books at all. In public schools, one school district has banned 23 different books from school libraries. Teachers in other school districts have also been told to hide their classroom book collections until all the books have been vetted and approved. But the vetting process is opaque, and there is no policy clarifying how long a complaint review process should take. As a result, books and films are withheld from students for months on end.
"Why is it permissible to teach white scholars Black folks were enslaved but not permissible to teach them about African American contributions to America and the world and the struggles they encountered and continue to experience as citizens of the United States of America?" former St. Petersburg police chief Goliath Davis asked in an op-ed for The Weekly Challenger after Ruby Bridges was banned. "Black history, Native-American history and Hispanic history, though not always glamorous, are American history and cannot be denied."