Florida School Bans Ruby Bridges Movie After Complaint From a Single Parent
The movie, which is shown in the district every Black History Month, is about the first Black student to integrate her elementary school in New Orleans.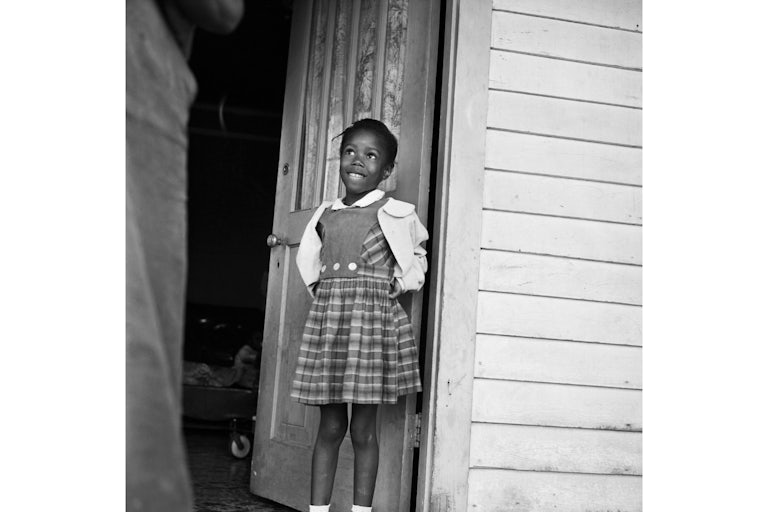 Bettmann/Getty Images
Ruby Nell Bridges, at age 6, was the first African American child to attend William Franz Elementary School in New Orleans after federal courts ordered the desegregation of public schools.
A Florida elementary school has banned the film Ruby Bridges after just one parent complained she didn't like how it depicted race relations in 1960s America.
The 1998 Disney film is about the true story of Ruby Bridges, who at age 6 became the first Black student to integrate her elementary school in New Orleans. White opposition to her attending was so intense that federal marshals had to escort her in and out of the school every day.

The movie has been a staple in the Pinellas County Black History Month curriculum for years. But in a complaint from March 6, a mother at North Shore Elementary said she felt that "the use of racial slurs and scenes of white people threatening Ruby as she entered a school might result in students learning that white people hate Black people," the Tampa Bay Times reported.
The school district responded by banning the film at North Shore Elementary "until a review committee can assess it." Many advocates for the film pointed out that it seems ridiculous and dangerous that it only takes one parent complaining to get material banned. It's also counterintuitive to ban a movie about race relations during a month dedicated to Black history.
"Many from historically marginalized communities are asking whether this so-called integrated education system in Pinellas County can even serve the diverse community fairly and equitably," Ric Davis, president of the Concerned Organization for Quality Education for Black Students, wrote in an open letter.
He pointed out, as the Tampa Bay Times said, "that the truth will not change because someone doesn't like it."

Davis argued that one person, no matter their race, should not prompt such a drastic reaction from district officials.
Florida is increasingly restricting what can be taught in schools at all levels. Governor Ron DeSantis has declared war on "wokeism" and has promised to defund diversity, equity, and inclusion programs on college campuses. He has backed the Stop Woke Act, which restricts teaching about race in colleges, and announced plans to mandate Western civilization courses. His administration was also in close contact with the College Board as it gutted the A.P. African American Studies course.
In public schools, one school district has banned 23 different books from school libraries. Teachers in other school districts have been told to hide their classroom book collections until all the books have been vetted and approved. But the vetting process is opaque, and there is no policy clarifying how long a complaint review process should take. As a result, books and films are withheld from students for months on end.
The Ruby Bridges fiasco comes about after Pinellas County school officials earlier this year banned high school students from reading The Bluest Eye by Toni Morrison—again after just one parent complained.

Former St. Petersburg police chief and deputy mayor Goliath Davis condemned the film's banning. "Black history, Native-American history and Hispanic history, though not always glamorous, are American history and cannot be denied. Additionally, it should not be discarded because a governor and his constituents allege its teaching adversely impacts white students," he wrote in an op-ed in The Weekly Challenger.
"Why is it permissible to teach white scholars Black folks were enslaved but not permissible to teach them about African American contributions to America and the world and the struggles they encountered and continue to experience as citizens of the United States of America, where the creed is 'liberty and justice for all'?"