God Didn't Want Ralph Yarl to Be Shot
Every detail in the story of the shooting of a Black teenager is worse than the last.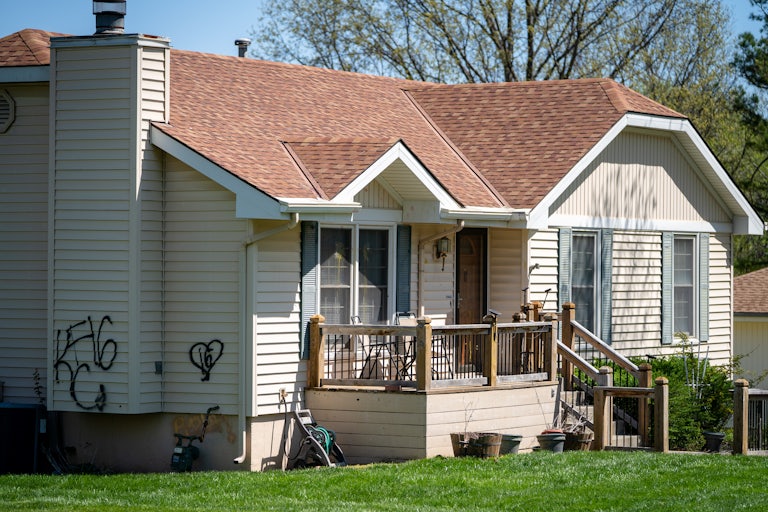 Christopher Smith for The Washington Post/Getty Images
Sixteen-year-old Kansas City high school student Ralph Yarl was shot on the front porch of this home when he went to the house by mistake in an attempt to pick up his twin siblings.
"God's country."
That is what attorney Lee Merritt says locals call the neighborhood in which 16-year-old Ralph Yarl was viciously shot after accidentally ringing the doorbell of the wrong address.
If such a place is indeed "God's country," we have perverted what it means for something to be godly at all. And if there is indeed a God, or gods, we have disrespected what virtue or moral ambition they could symbolize. Because every single excruciating detail of what transpired in Kansas City, Missouri, just days ago reveals a society unfit to be hailed as something sacred.
On Thursday, 16-year-old Yarl, who is Black, was attempting to pick up his siblings in Kansas City. He walked up to the doorstep of what he thought was the home he was sent to. He mistook Northeast 115th Terrace to be the address he should've gone to, Northeast 115th Street. And the honest mistake, a benign mix-up anyone could have made, proved to be costly.
Upon ringing the doorbell of the home, Yarl was allegedly shot point-blank by Andrew Daniel Lester, an 84-year-old white man.

After Yarl had rung the doorbell, Lester said he opened the interior door and, without exchanging any words, shot the young boy—right in the head. And as if the first shot was not enough, Lester apparently shot the boy again when he was on the ground.
"Don't come around here," Lester reportedly said after Yarl was somehow able to get up and flee.
Despite the shots ringing out at 10 p.m., certainly not a time of much loud rambunction, Yarl apparently had to run to three different homes before a neighbor finally agreed to help him. It somehow gets worse: A neighbor only "agreed" to help after Yarl heeded commands to lie on the ground with his hands up, according to a GoFundMe set up by his aunt, Faith Spoonmore.
A boy shot in the head and arm, running around yelling for help, was still somehow seen with suspicion before "earning" the right to assistance.
One of the three neighbors, who remained anonymous, said she called 911 after Ralph came to her door; she says she was directed by the 911 operator to stay inside because the shooter's location was unknown. Among the only nuggets of faith in the story is her reportedly going outside eventually to help Ralph stave off the bleeding, unable to heed the directive to stay inside.
"This is somebody's child. I had to clean blood off of my door, off of my railing. That was someone's child's blood," she told CNN. "I'm a mom … this is not OK."
Cleo Nagbe, Yarl's mother, told CBS that since the incident, her son has been replaying the situation constantly as he slowly recovers, the "residual effect" of the shooting plaguing him.
Nagbe says that Yarl is able to communicate "when he feels like it." But "mostly he just sits there and stares and the buckets of tears just roll down his eyes."
Lester has been charged with assault in the first degree and armed criminal action; it is unclear why a man who shot a boy point-blank, once in the head and once in the arm after he was already on the ground, has not been charged with something like attempted murder.
The disparities of our justice system will be something to watch; and of course, the wish is less about a carceral response for any one individual than it is about equal justice for everyone. Yet it is shocking, for instance, that Lester was released after just two hours of being in custody last week; he was released once again on Tuesday less than two hours after surrendering to authorities.
Such an appalling case, and the injustices in its aftermath, is backdropped by two separate cases of people, one Black, one white, being left to die in their jail cells while being held on lesser battery charges. On Monday, a grand jury decided that a group of police officers who shot an unarmed fleeing Black man almost 50 times would not face consequences. Another young woman, who was white, was also shot dead after accidentally pulling into the wrong driveway on Saturday.
All of which is to say that our society is a violent one. Racism undergirds much of this violence, but the violence is so deeply embedded within our social veins of distrusting anger, our structural veins of carceral coldness, that people of all backgrounds are implicated.
Such a society is one that has no capacity to deem any part of it to be "God's country." If there is a God, or gods, the compassion and moral commitments that we may derive from them are ambitions we have much more work to bend toward.