Republican Senator Has No Problem With White Nationalists: "I Call Them Americans"
Tommy Tuberville is defending racists in the military.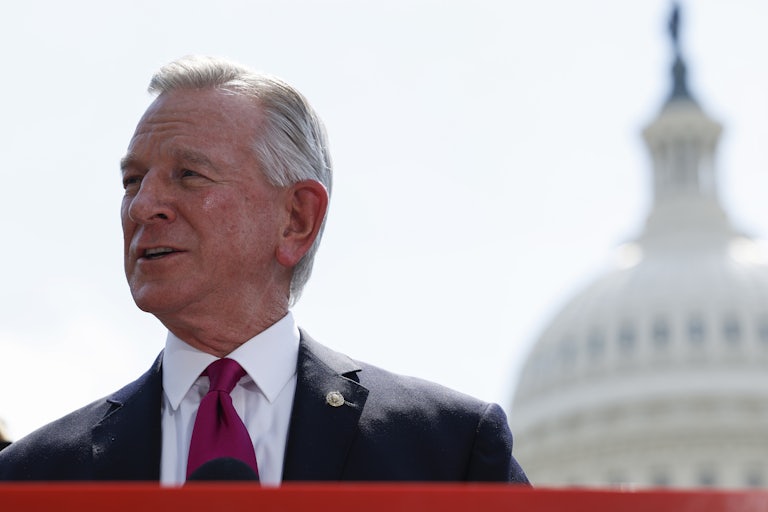 Anna Moneymaker/Getty Images
Alabama Senator Tommy Tuberville
Senator Tommy Tuberville doesn't really see the difference between white nationalists and Americans.
The Republican senator said that white nationalists should be allowed in the U.S. military because blocking any ideological group from serving would weaken the institution.
During an interview Monday with the Alabama radio station WBHM, Tuberville was asked if he thought white nationalists should be allowed to serve in the military.
"They call them that," he said, referring to the Biden administration. "I call them Americans."
"We are losing in the military so fast," he continued. "Our readiness in terms of recruitment. And why? I'll tell you why, because the Democrats are attacking our military, saying we need to get out the white extremists, the white nationalists, people that don't believe in our agenda."
Tuberville also referred to the military as a "strong, hard-nosed, killing machine," which is definitely how you want national leaders discussing their opinion of defense policy.
His office released a statement Wednesday saying that Tuberville meant he was "skeptical" that white nationalists were in the military, not that he thought they should be in the military. But the Alabama Republican is wrong there, too.
A month after the January 6 attack, Pentagon officials said in a report that white supremacist ideology had made significant inroads in the military. The report found that white supremacist groups would try to recruit active military personnel and veterans and group leaders would often try to enlist in order to get weapons and training. One Florida National Guard member co-founded a fascist group and said he was "100 percent open" about being a neo-Nazi—and no one batted an eye.
As for military readiness issues, Tuberville might want to take a look in the mirror: He has blocked nearly 200 military promotions since March over his objection to the Defense Department's abortion policy. Defense Secretary Lloyd Austin warned in a letter to Senator Elizabeth Warren last week that Tuberville's delay "harms America's national security" and poses a "clear risk" to the military's readiness.
Tuberville's apparent openness toward white supremacists makes sense when you think about his unwavering support for former President Donald Trump, who counted extremists Steve Bannon and Stephen Miller among his inner circle. Trump also infamously told the far-right Proud Boys to "stand back and stand by," which prosecutors in the hundreds of January 6 lawsuits said the white nationalists interpreted as a call to action.
Tuberville's support for Trump remains unflagging, despite the former leader's ongoing legal woes. On Tuesday, Tuberville said that a jury finding Trump liable for sexual assault and defamation "makes me want to vote for him twice."