Nebraska Passes Double-Whammy Bill Banning Abortion and Trans Kids' Health Care
The bill is expected to be signed into law by Republican Governor Jim Pillen.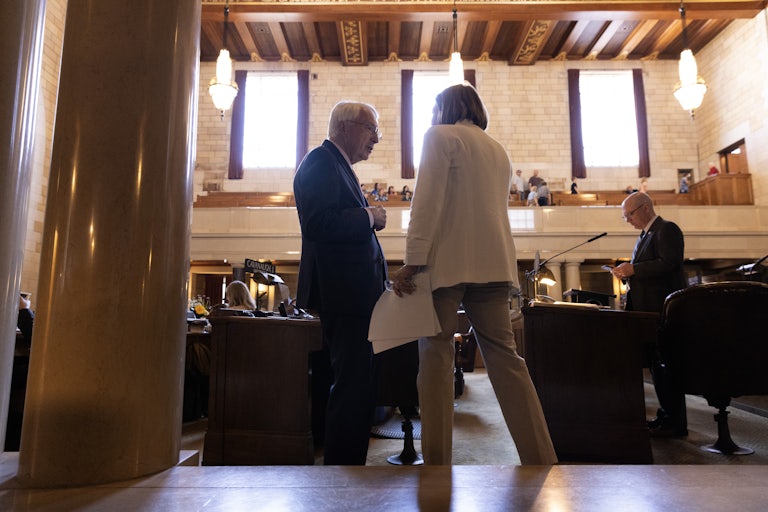 Getty
Nebraska state Senator Merv Riepe chats with fellow Senator Jane Raybould at the Nebraska state Capitol
The Nebraska state legislature passed a bill Friday banning abortion after 12 weeks and gender-affirming care for minors, a double-whammy of curbing human rights.
The anti-abortion, anti-trans bill passed the House by a vote of 33–15 and now heads to the desk of Governor Jim Pillen, who has said he will sign it. The measure initially passed the Senate on Tuesday, when lawmakers also voted 33–15 to add the abortion ban as an amendment to the existing gender-affirming care bill.
The rotunda and gallery were packed with people protesting against the bill, chanting so loudly that lawmakers struggled to hear each other. At one point, when Republican Senator Kathleen Krauth began speaking, protesters erupted so loudly that security cleared the gallery. Demonstrators threw tampons onto the chamber floor before they were escorted out.

"Nothing I say matters in this chamber, so I am going to say the unvarnished truth," Senator Machaela Cavanaugh said during the final debate. "This place is morally bankrupt, that you are playing political games with parents and children in this state to get something. It's gross. It's vile."
The Nebraska legislature failed last month to pass a six-week abortion ban, after two typically anti-abortion senators voted "present." Republicans then pushed the 12-week ban by folding it into the anti-trans bill.
The measure will ban abortion after 12 weeks. Exceptions would only be made for rape, incest, or to save the pregnant person's life. The bill would also prohibit people under 18 from receiving puberty blockers, hormone therapies, and genital or nongenital surgeries. Genital surgeries are not performed in Nebraska, but Republicans have banned them anyway.
The state's chief medical officer—who is simply an ear, nose, and throat specialist appointed by the Republican governor—would be able to set rules and regulations that would allow gender-affirming medications in certain situations. The bill's supporters say this is a compromise, but critics worry this authority could be used to create a blanket ban instead of more flexibility.
State Democrats, led by Cavanaugh and Senator Megan Hunt, have sought to block anti-trans legislation by filibustering every single bill that came up during the legislative session. But they were finally defeated on Friday.