Minnesota Governor Vows to Legalize Marijuana: "I Trust Adults to Make Their Own Decisions"
Tim Walz and the Democratic Party in Minnesota are making real progressive changes in their state.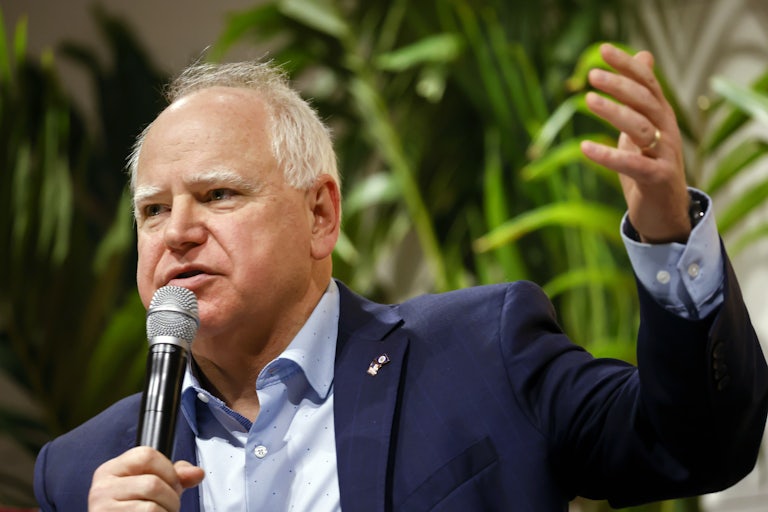 Eva Marie Uzcategui/Bloomberg/Getty Images
The center of Democratic efficacy is not in New York or California—it's in the Midwest. Minnesota has spent its entire legislative session notching progressive win after win, from becoming the first state to codify abortion rights after the fall of Roe, to guaranteeing free meals for every Minnesota public and charter school student.
And now, Minnesota Governor Tim Walz is vowing to sign the marijuana legalization bill passed by the state legislature.
"I served on the Veterans Affairs Committee in Congress for a dozen years, and we passed the first piece of legislation on medicinal cannabis to help us move away from the opioid addictions that we saw with our returning soldiers. And we know that prohibition doesn't work," Walz reasoned on Sunday. "And with the issues of contamination of fentanyl, and xylazine and things we're seeing show up on street cannabis, it doesn't make any sense. And so we're gonna allow people to grow it at home."
Walz's answer was steeped not just in practical logic, but in convincing philosophical terms that embody what a winning case for the party is: emphasizing freedom to, and not just freedom from.
"I trust adults to make their own decisions. We're talking about freedoms. You make [your] own health care decisions in Minnesota. We're not going to tell you how to deal with your children. We're going to allow teachers to teach. We're not going to ban books," Walz said. "We'll have it legally—the regime will be in place to make sure that it's safe, the things that are being sold to folks, and we'll use the resources from the tax revenue to help educate people on addiction which we know is ravaging, you know, people across the country."
States like Florida and Texas have earned much-deserved scrutiny for their extremely oppressive legislative sessions. Minnesota and other midwestern states warrant their own contrasting recognition: of Democrats running on popular progressive policies, delivering on them, and bettering the lives of millions.