Here Are the Three "Liberal" Senators Who Helped Republicans Block Biden's Student Loan Relief
The senators, who ordinarily caucus with Democrats, voted against helping millions of people struggling with student debt.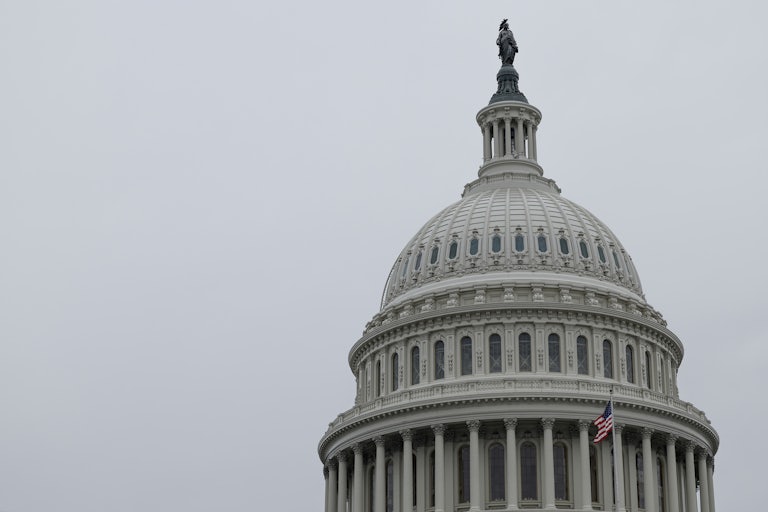 Anna Moneymaker/Getty Images
On Thursday, the Senate voted to block President Joe Biden's student loan relief program. Senate Republicans were joined by Democrats Joe Manchin and Jon Tester and independent Kyrsten Sinema in leaving up to 43 million people in crippling debt.
Thanks to their vote, the legislation now heads to the desk of Joe Biden.
Note that these conservative senators, all of whom caucus with the Democrats, are fans of preserving the 60-vote filibuster threshold, which prevents affirmative policy changes from happening. Meanwhile, they'll happily vote with a simple minority to do whatever they can to actively stop affirmative government action too.

The vote comes after two House Democrats, Jared Golden and Marie Gluesenkamp Perez, joined Republicans to block the plan last week. Golden and Perez are co-chairs of the famously inefficacious conservative Blue Dog caucus, which has served as a home to corporate-chasing Sinema and NRA A-rated, anti-choice conservative Henry Cuellar.
As a reminder, while these conservative Democrats pretend their votes are in line with "everyday Americans," their votes signify keeping the soul-crushing boot of wildly undue debt on the backs of 43 million people. That boot harms those individuals' lives, as well as the lives of the millions of friends, family members, and neighbors who surround them.
Estimates show that 87 percent of the relief from Biden's plan would go to individuals earning less than $75,000 a year, while none would go to those earning more than $125,000. Ninety-five percent of the total benefits would go to households making less than $150,000.
Biden has previously said he would veto such a measure to block his plan; some thus argue the conservative Democrats' votes are symbolic. But even if they are, the symbol is one of cowardice, of an incredible refusal to communicate to voters that a policy that uplifts millions of working people is worth pursuing at all.