Greg Abbott Appoints Election Skeptic as Interim Texas Attorney General
John Scott once agreed to represent Donald Trump in his efforts to overturn the 2020 election.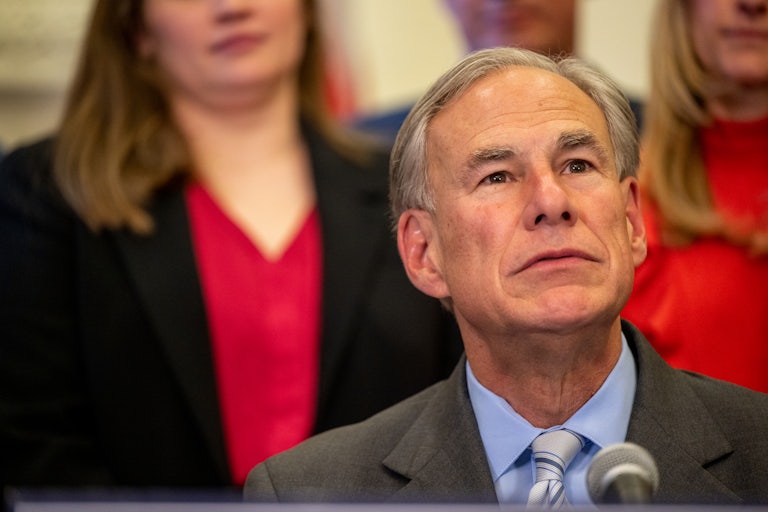 Brandon Bell/Getty Images
Texas Governor Greg Abbott
Governor Greg Abbott on Wednesday appointed the former Texas secretary of state, who was involved in trying to overturn the 2020 election, as interim attorney general.
The state House voted overwhelmingly on Saturday to impeach Attorney General Ken Paxton for a raft of alleged crimes, including bribery and abuse of office. It was only the third impeachment in Texas history. Paxton had to immediately step aside from his duties and could be removed from office entirely, pending the result of a Senate trial.
Abbott announced Wednesday that John Scott, a lawyer and the former secretary of state, would fill in while Paxton's trial plays out. Abbott appointed Scott as secretary of state in October 2021, and he served through the midterm elections until the end of 2022.
The official press release listed Scott's many qualifications, including that he "aided then-Attorney General Abbott's efforts to hold the Obama Administration accountable and sue President Obama more than any other Attorney General." While working under Abbott as deputy attorney general, Scott also defended the Texas voter identification law that federal courts ultimately found was discriminatory and created an undue burden on Black and Hispanic voters.
Scott's initial appointment to state secretary was controversial for a few reasons. First, he was appointed after the legislative session had ended, so he never had to go through the traditional confirmation process.
But more significantly, he also briefly agreed to represent Donald Trump in his efforts to overturn the results of the 2020 election. Scott signed on as counsel to a lawsuit Trump filed to stop the certification of Pennsylvania's election results. (He filed a motion to withdraw as attorney for the plaintiffs a few days later.)
Although his stint on Team Trump was brief, he seems to have carried that election skepticism into his role in the Texas government. While he eventually conceded that Joe Biden won the 2020 election and that Texas's elections were fair and secure, he also continued to fuel election misinformation among voters.
Scott's office oversaw a nearly yearlong audit of the 2020 election results in four of Texas's largest counties, including the Democratic-leaning Harris and Dallas counties. None of the audits showed there had been any fraud.
During his time as secretary of state, Scott also helped shepherd in a controversial voting law that had been prompted by Trump's false claims that fraudulent votes were cast. The law rolled back a lot of initiatives that made it easier for people of color to vote, including drive-thru voting, early voting, and mail-in ballot applications. Instead, the law created new identification requirements for mail-in voting, set up monthly reviews to prove voters' citizenship, and increased protections for partisan poll watchers.