Trump's Pathetic Response to the Recording of Him Discussing Classified Documents
Trump was caught on tape bragging about keeping classified documents after leaving the White House. He has no good answer for it.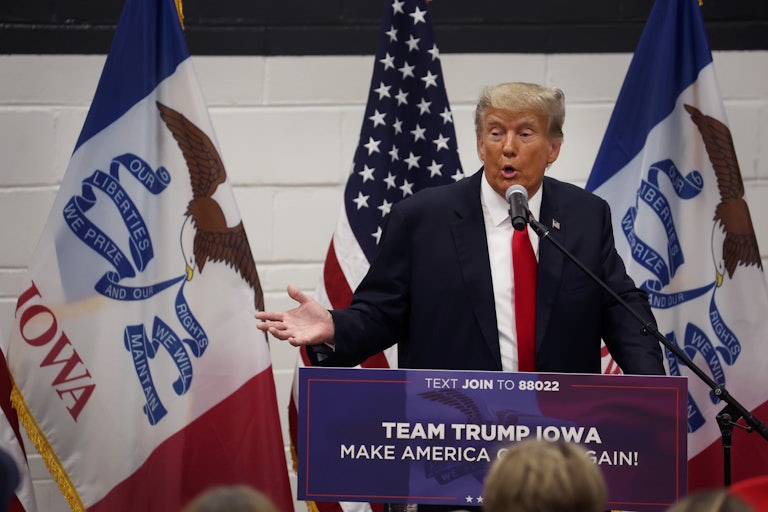 Scott Olson/Getty Images
Donald Trump is sticking to a tried-and-true method of responding to bad news: Deny everything.
Prosecutors for special counsel Jack Smith, who is investigating Trump for his alleged mishandling of classified documents, obtained an audio recording of a meeting held in July 2021, during which the former president essentially admitted that he knows he can't declassify documents at will. He brags explicitly about having kept a classified Pentagon document, and the sound of rustling papers can be overheard, as if Trump were waving that document around.
During a Fox News town hall on Thursday, Sean Hannity—a longtime Trump confidant—asked Trump about the recording.
"I don't know anything about it," Trump replied. "All I know is this: Everything I did was right."
Trump then went on to accuse President Joe Biden of having almost 2,000 boxes of classified documents, "seven or eight" of which he had stashed in Chinatown, in Washington, D.C.
"Chinatown is very—it's, it's, it's in favor of China," Trump said, throwing a nice bit of xenophobia into the mix.
It's no good denying or deflecting anymore, though. In addition to the recording of Trump acknowledging that he can't declassify materials whenever he wants, Smith's team also recently acquired a slew of records including handwritten notes, transcriptions of audio recordings, and invoices from Trump lawyer Evan Corcoran. A judge ruled in March that some of Trump's attorney-client privileges could be "pierced" after prosecutors for Smith's team found that Trump intentionally misled his own lawyers, including Corcoran, about keeping classified materials when he left office.

Those records reveal that Trump knew he wasn't supposed to keep classified documents. Not only did he do so anyway, but Corcoran was also prevented from searching Trump's office at Mar-a-Lago, where the FBI later found some of the most sensitive material.
Smith has not yet issued any criminal charges, but Trump has plenty of other legal struggles to keep him busy in the meantime. He is under investigation in Georgia for his efforts to overturn the 2020 election, and he was indicted on 34 felony counts of falsifying business records for paying hush money to porn actress Stormy Daniels.

Trump also was found civilly liable for sexually abusing and defaming writer E. Jean Carroll—and last week, she sued him for defamation again over comments he made about her during a CNN town hall.