DeSantis Super PAC: The Trump Campaign is "Obsessed With Men's Genitalia"
The DeSantis-Trump feud keeps getting weirder, grosser, and more intense.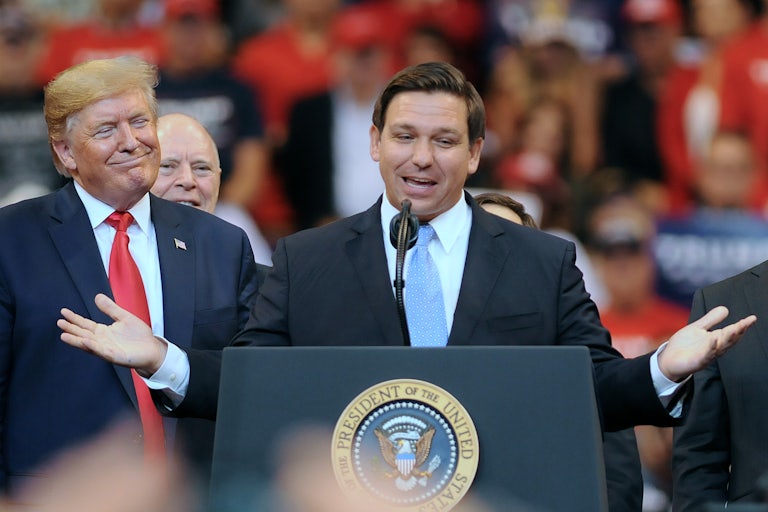 Photo by Paul Hennessy/SOPA Images/LightRocket/Getty Images
Donald Trump and Ron DeSantis in 2019
Marco Rubio's time in the 2016 Republican presidential primary ended with a humiliating series of dick jokes. Desperate and trailing in the polls, the diminutive Florida senator tried to act like the then front-runner and eventual nominee by trying his hand at insult comedy. Speaking at a rally ahead of Super Tuesday, Rubio implied that Trump had a small penis, telling an audience, "You know what they say about men with small hands." (Never mind that the actual knock on Trump is that he famously has very short fingers.) Donald Trump was not so coy when he responded to Rubio a few days later during a primary debate. "Look at those hands, are they small hands?" Trump said, as he raised them for viewers to see. "And, he referred to my hands—'If they're small, something else must be small.' I guarantee you there's no problem. I guarantee."
That was a low moment of the 2016 race, though (probably) not the lowest. It also came months into the contest: Rubio would hang around for another week after that debate before dropping out of the race entirely (and eventually endorsing Donald Trump). The dick jokes also came at a time when Rubio was running out of options and had nothing left to lose—except even more of his dignity. Nearly eight years later, this portion of the GOP primary has sadly arrived far earlier.
Ahead of Ron DeSantis's Friday visit to Nevada, surrogates for both the Florida governor and the former president have been duking it out—and once again going blue. DeSantis is traveling to Reno to attend the long-running Basque Fry, an event where "lamb fries"—stewed, fried lamb testicles—are served.
Trump campaign senior adviser Chris LaCivita couldn't help himself: "Not surprised Ron DeSantis is looking for a set of balls," he said.
Erin Perrine, communications director for the pro-DeSantis Super PAC Never Back Down, quickly hit back: "The Trump team's obsession with men's genitalia is more perverted than a woke grooming book." This is the DeSantis campaign in a nutshell: It's a convoluted response with forced, clunky references to "wokeness" and the Florida governor's obsession with book bans shoved in. (It's also not entirely clear what a "woke grooming book" is, though that's understandable given that no one knows what "woke" even means.) In any case, the Republican primary is devolving way ahead of schedule. It's only June. We may have another year of this to go.
More on the Interminable 2024 GOP Primary