Republicans Are Taking Credit for Infrastructure Bill They All Voted Against
Amazing about-face from the members of Congress who tried to stop the bill in the first place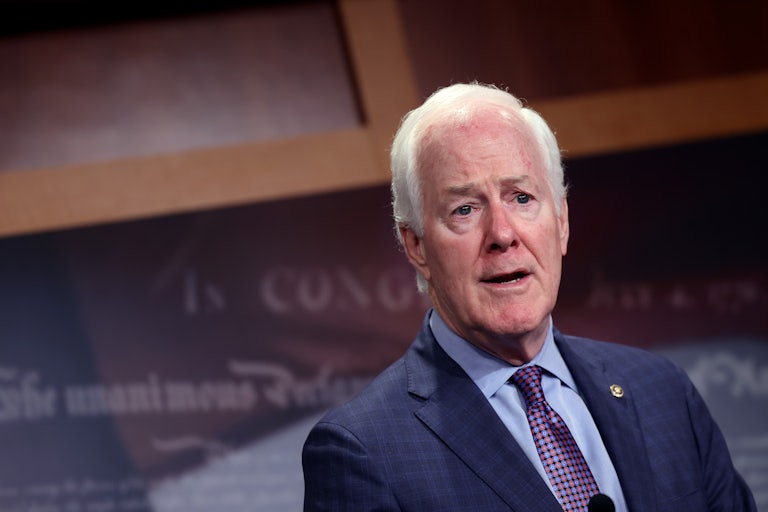 Kevin Dietsch/Getty Images
Senator John Cornyn
One of President Biden's hallmark achievements thus far is his $1.2 trillion bipartisan infrastructure law. Even though Biden compromised with Republicans, and even though the law was so beneficial for their constituencies, a majority of Senate and House Republicans still voted against it in 2021. And now these same Republicans are suddenly trying to take credit for the historic investment they actively tried to stop.
Biden's law is distributing upward of $42 billion across America to expand internet access and help bring rural and isolated communities into the increasingly digital world. The White House on Monday released estimates of what that means for each state—and Republicans who voted against the bill were quick to claim the victory.
Senator Tommy Tuberville lauded the news Tuesday, celebrating the law's impact on Alabama's rural communities:
Senator John Cornyn also tweeted an article boasting about Texas receiving a whopping $3.3 billion for broadband, more than any other state in the nation.
Of course, the spanning infrastructure package includes other popular provisions as well.

Representative Nancy Mace on Wednesday hosted a press conference celebrating the law's allocation of nearly $26 million to a Charleston, South Carolina, regional bus hub featuring electric buses. Mace has previously called the bipartisan infrastructure law "absurd" and a "fiasco," and specifically derided funding electric mass transportation as "socialism."

If it is socialist, so be it: Perhaps Mace's celebration of the project shows how popular socialist policies might actually be!
Tuberville and Cornyn are among the 30 Republican senators who voted against the bipartisan infrastructure law. Mace is among the 200 House Republicans who voted against it.