The Very Short List of Republicans Denouncing Trump on Classified Docs
Here are all the Republicans brave enough to say it's bad to hide CIA documents in your bathroom.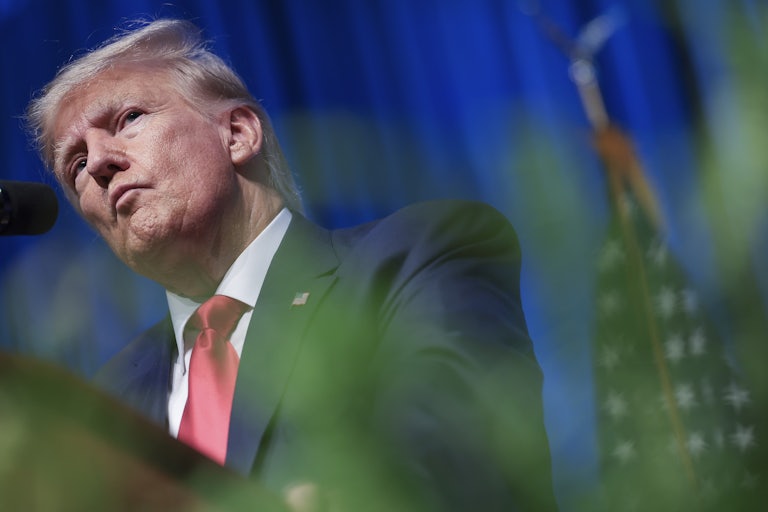 Just a handful of Republicans have spoken out against Donald Trump after he was indicted once again, this time for taking and mishandling secret government documents, going as far hiding the documents in a Mar-a-Lago bathroom and showing off the documents (from agencies like the CIA, Defense Department, and NSA) to a representative of his PAC as well as staff members.
In almost all the condemnations, Republicans still default to also criticizing Joe Biden or Mike Pence for having taken government documents after they left the White House (though both appear to have cooperated with government efforts to return said documents, while Trump actively did not).
Nevertheless, as the wider party remains silent, here's the very small list of Republicans who have condemned Trump for mishandling top secret government information.
Presidential Candidates
Chris Christie went on a broadside against Trump, as well as his fellow candidates, in a CNN town hall Monday. "They're playing political games with you," Christie told the audience about Republicans who are attacking the Department of Justice but avoiding the specifics on Trump's "indefensible" indictment. "The evidence is pretty damning," he added.
Nikki Haley said if the indictment is true, "Trump was incredibly reckless with our national security."

"My husband's about to deploy this weekend. This puts all of our military men and women in danger," Haley continued, while still tempering her condemnations by claiming that the Department of Justice and FBI have "lost all credibility with the American people." (Haley tapped the brakes even further on Tuesday, saying she "would be inclined in favor of a pardon" for Trump if she became president and he was convicted.)
Tim Scott said it was a "serious case with serious allegations," according to The Post and Courier. Still, he couldn't help himself either, adding that "what we see today across this administration of President Joe Biden is a double standard. That double standard is both un-American and unacceptable. You can't protect Democrats while targeting and hunting Republicans."
Mike Pence said he "cannot defend what is alleged," while also hedging, claiming there had to have been a degree of politicization involved, and that he reserves full judgment, as Trump "has a right to his day in court." Pence echoed Haley in citing familial concerns. "My son's a Marine, my son-in-law is a Navy lieutenant. I mean, the very prospect that … highly sensitive classified material could have fallen into the wrong hands—even inadvertently—that jeopardizes our national security, it puts at risk the men and women of our armed forces."
Asa Hutchinson was the first candidate to have taken a firm stance upon the indictment's release last Thursday. "With the news that Donald Trump has been indicted for the second time, our country finds itself in a position that weakens our democracy," the former Arkansas governor said in a statement. "Donald Trump's actions—from his willful disregard for the Constitution to his disrespect for the rule of law—should not define our nation or the Republican Party."

Senators
Senator Lisa Murkowski said the indictment is "a pretty comprehensive condemnation of the president's actions," also criticizing Republican efforts to target investigators. "We cannot take this lightly, so to kill the messenger does not account for the gravity of the indictment that is out there," she said. "I don't care whether you're a Trump supporter or a Trump opposer, you have to take this seriously."
Senator John Cornyn simply said the Trump indictment is "not good," while Senator John Thune called it "very serious," echoing his endorsee Scott. He too added the same caveat: "What I would hope is what others have done, whether it's Hillary Clinton or Joe Biden or anybody else, wouldn't become the standard of behavior for Republican leaders."
Senator Mitt Romney said, "I'm increasingly angry the more I think about it. The country is going through angst and turmoil, and that could have been avoided if President Trump had just turned in the documents; he wouldn't have been indicted."
He added, "Why? What purpose would you have for doing that?"
House Members
On CNN, Representative Ken Buck said he "would not feel comfortable with a convicted felon in the White House," saying that Trump's attacks on Hillary Clinton in 2016 "set the standard."
"It's very problematic. There's a reason I'm not defending it," Representative Dan Crenshaw said.
"I just think it's obvious what the president did was wrong," said Representative Don Bacon. "I just think the emperor has no clothes, and we need to have Republicans stand up and say that, because come around after the primary … the other party's going to be saying this."
When asked if he would be okay with a convicted felon being the party's nominee, Representative Tim Burchett said "honestly on the surface, I wouldn't. That doesn't look good."

Representative Steve Womack said that he has "serious concerns about anybody that has a reckless disregard for the handling of classified documents."
All that to say: nothing too stellar from the party that purports to care about our "men and women in uniform." It was already known how much they actually do, based on how often they jostle to send them to war or how little they care for them once they return. But now Republicans aren't even bothered to express concern for national security interests.
This article has been updated.