Florida's New School Curriculum Is Designed to Make Kids Conservative
The right-wing group behind the newly approved school materials is proud of its agenda.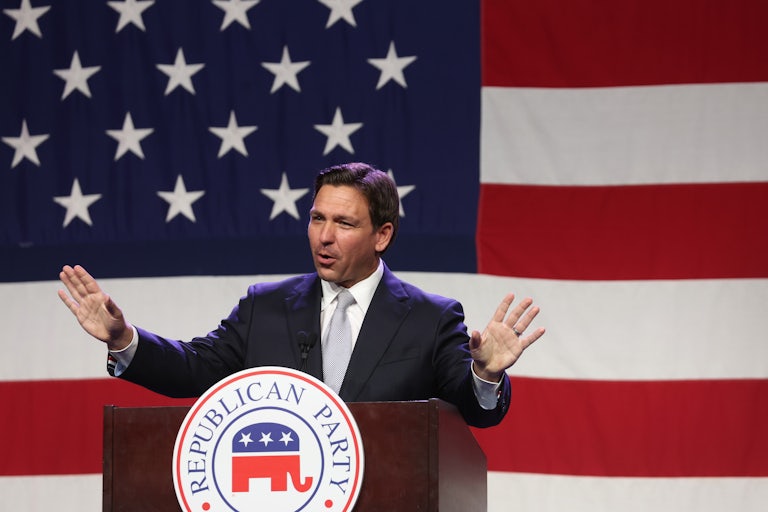 Scott Olson/Getty Images
The Florida Department of Education has approved a set of educational materials created by PragerU, a right-wing group that has explicitly stated it wants to indoctrinate children.
PragerU is not an accredited academic institution. Rather, it's a conservative advocacy group cloaked in the guise of scholars that are best known for spreading disinformation on climate change, questioning the role of slavery as the pretext for the Civil War, and generally dismissing any acknowledgment of racism (especially against Black Americans) throughout American history.
But according to the group's founder, conservative radio host Dennis Prager, it's actually OK to indoctrinate kids … as long as you're making them conservative.
"We are in the mind-changing business, and few groups can say that," Prager says in a promotional video for PragerU. He repeated the same thing again at the Moms for Liberty conference in Philadelphia last month, noting that it's "fair" to say PragerU indoctrinates kids.
"It's true we bring doctrines to children," Prager told the right-wing audience. "But what is the bad about our indoctrination?"
Florida is the first state to approve PragerU's ersatz curriculum in K-12 schools, despite Governor Ron DeSantis's repeated insistence that kids needed to be protected from indoctrination.
The exception for PragerU perhaps makes sense when you take a closer look at its content. Many of its videos are narrated by right-wing personalities like Tucker Carlson, Ben Shapiro, and Candace Owens. The subject material is as bad as you'd expect.
In one five-minute video history lesson, two kids travel back in time to meet Christopher Columbus, who reassures them that violence against Indigenous and Black people is OK.
"Well, in our time we view slavery as being evil and terrible," one of the kids tells him.
"Ah. Magnifico! That's wonderful," the fictional Columbus responds. "I am glad humanity has reached such a time. But you said you're from 500 years in the future? How can you come here to the fifteenth century and judge me by your standards from the twenty-first century?"
Columbus tells the kids that slavery was "no big deal" and that "being taken as a slave is better than being killed."
In fact, downplaying the harms of slavery is a common theme in PragerU's content. In another video, a cartoon Booker T. Washington tells the time-traveling kids that slavery is bad but "it's been a reality everywhere in the world."
"America was one of the first places on earth to outlaw slavery," he adds. (America was actually one of the last countries to do so.)
Other videos push pro-cop propaganda, celebrate the benefits of British colonialism, dispute the reality of climate change, and praise the apartheid state of Israel.
PragerU CEO Melissa Streit has defended the group's content as "pro-American ideology."
"The ideology that we promote is a pro-American ideology, the ideology of which America was essentially built upon that has created this nation," she told The Orlando Sentinel. "But we are not a political enterprise, we are a pro-American enterprise."