Team DeSantis Created That Weird Meme Video With the Giant Nazi Symbol
The campaign has an entire war room dedicated to making the meme videos.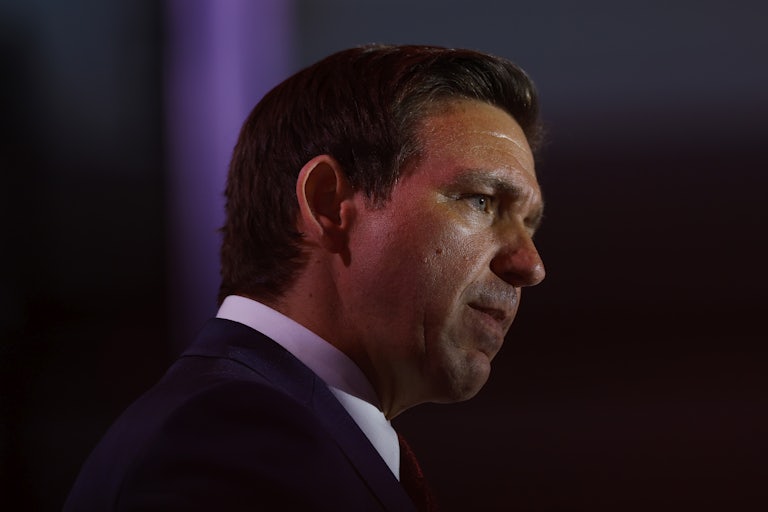 Anna Moneymaker/Getty Images
Ron DeSantis
The DeSantis campaign made that weird meme campaign video featuring a giant Nazi symbol—and then planted it in a fan account.
The campaign last week faced backlash after a top staffer reshared a video, in which an image of DeSantis was layered with a Nazi symbol, the Florida flag, and marching soldiers. The video was first posted by the Ron DeSantis Fancams Twitter account and later deleted.
But reporting from Semafor confirmed what many had suspected: The DeSantis campaign made the video.
A Signal text message chain titled "War Room Creative Ideas" was responsible for the creation of the video, as well as a rabidly homophobic ad released earlier this month. That video too was planted in a fan account.
In the Signal channel, managed by DeSantis rapid response director Christina Pushaw, people praised the video when it was first created, according to Semafor.
"This belongs in the Smithsonian," wrote Kyle Lamb, the campaign's director of research and data, before the ensuing backlash. Lamb was let go days later, amid massive layoff in the DeSantis campaign.
It's not clear who shared the image of the Nazi symbol that made it into the video.
The far-right circular symbol is known as a "sonnenrad," a symbol co-opted by Nazis in their attempt to claim an "Aryan heritage." Today, it's often found in white supremacist literature and the manifestos of far-right mass shooters.
As the very bad Nazi memes roll in, DeSantis supporters are reportedly getting fed up with the campaign's priorities.
One donor told Rolling Stone: "If they keep blowing money on fucking memes, I'm out."